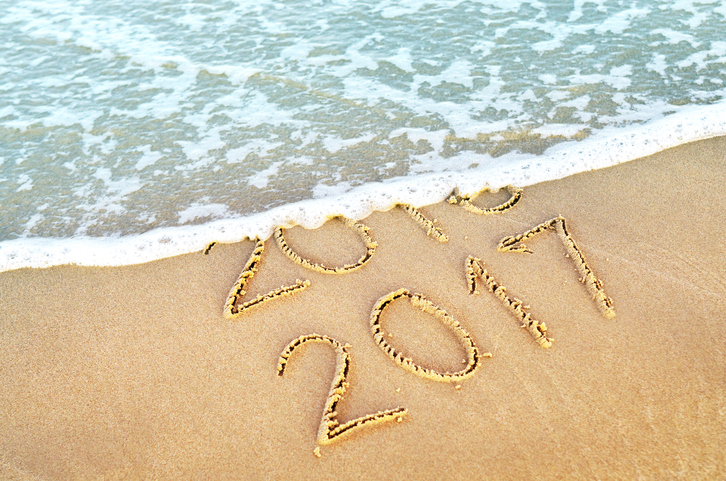 The year 2016 began on a high note: It was fresh on the heels of the federal extension of the expired production tax credit (PTC) in December 2015. So, how did the U.S. wind industry proceed from there? Here's a look at a potpourri of 10 highlights from the year.
1.    Let's get the obvious one out of the way. In November, Donald Trump was voted the next president of the U.S. In turn, an entire Trump administration is being formed, including former Texas Gov. Rick Perry as head of the Department of Energy and Oklahoma Attorney General Scott Pruitt for head of the Environmental Protection Agency (EPA). We'll see how all of this plays out for the renewable energy industry, the Obama administration's Clean Power Plan (CPP) and the globally signed Paris Agreement.
2.    In regards to the CPP, the EPA's emissions-reducing initiative faced its share of hurdles in 2016. The plan calls for reducing carbon emissions from the U.S. power sector 32% below 2005 levels by 2030. When the EPA published the final rule in 2015, a state-led coalition filed a lawsuit that claimed the CPP could have "devastating impacts upon the states and their citizens." Another coalition of states, cities and counties later filed a motion to defend the CPP in federal appeals court. Then, in January 2016, the court rejected the objecting states' request for a stay of the CPP while the legal battle went on. However, in February, the Supreme Court ruled that the federal initiative would, indeed, be stayed. In September, the court heard oral arguments for a full day, and a decision is expected to be made soon.
3.    Many U.S. states did, however, take action to reduce emissions and bring on more renewable energy in 2016. In New York, for example, Gov. Andrew Cuomo kicked off the year in his State of the State address by rolling out some big clean energy initiatives, including planning to eliminate coal from the state by 2020 and bringing on more wind and solar. (Just two days ago, he even announced a big, 2.4 GW offshore wind goal.) In March, Gov. Kate Brown, D-Ore., signed into law a bill that requires Oregon's two biggest utilities to increase their renewable portfolio standards (RPS) to 50% by 2040. In California, which already has a 50% RPS, the state kicked off the California Intergovernmental Renewable Energy Task Force and signed into law four bills related to energy storage and a bill to decrease emissions at least 40% below 1990 levels by 2030. In addition, over the summer, Massachusetts Gov. Charlie Baker signed a comprehensive energy bill that calls for a whopping 1.6 GW of offshore wind.
4.    Speaking of New York, that record-breaking offshore wind auction held last month cannot be ignored. Initiated by the U.S. Department of the Interior's Bureau of Ocean Energy Management, the auction was for the rights to develop an offshore wind farm off Long Island. In the end, following 33 rounds of bids, Statoil Wind US LLC emerged victorious with a final bid of $42,469,725. According to statistics from the Natural Resources Defense Council, the developer's mammoth bid came to more than double the amount paid for all of the agency's 11 previous wind power auctions combined. Moreover, Statoil said the 80,000-acre has the potential to accommodate more than 1 GW worth of offshore wind.
5.    In more federal action, in December, the Internal Revenue Service (IRS) rolled out its long-anticipated new guidance regarding the "beginning of construction" requirement for the production tax credit (PTC). According to analysis from law firm Stoel Rives, the new guidance updated the agency's previous guidance in "two significant respects":  "First, Notice 2017-4 extends in certain cases the placed-in-service date for satisfying the 'continuity requirement' for beginning of construction, as recently described in provided in Notice 2016-31. Second, the new notice clarifies that the prohibition against combining methods by which to satisfy the beginning of construction requirement in Notice 2016-31 only applies to facilities whose construction began after June 6, 2016."
6.    Also in December, the U.S. Fish and Wildlife Service (FWS) published its final version of its eagle permit rule. According to the FWS, under the revised rule, "permits may be granted only when the applicant agrees to specific measures to first reduce take to the greatest extent possible." The American Wind Energy Association (AWEA) expressed hope that the rule will "provide a workable permitting framework that gives the private sector necessary clarity while further reducing the already minimal impact the wind industry has." The American Bird Conservancy, however, said although it was "pleased with some aspects of the new rule," the group still had "serious concerns."
7.    The U.S. has offshore wind! Last month, Deepwater Wind's Block Island Wind Farm, the U.S.' first offshore wind project, officially began commercial operations. The 30 MW project, now spinning three miles off the coast of Block Island, R.I., was deemed a "triumph for the American worker and U.S. energy independence," said Tom Kiernan, AWEA's CEO. Jeff Grybowski, head of Deepwater Wind, noted that the Block Island Wind Farm is only "just the start of a new U.S. renewable energy industry." According to National Grid's estimates, the project is expected to provide enough energy to meet the island's entire demand of 3 MW to 4 MW of power.
8.    Major merger action: Following a 2015 chock-full of mergers and acquisitions announcements (e.g., Nordex's planning to buy Acciona Windpower and Vestas' buying service providers UpWind Solutions and Availon), Gamesa and Siemens made major headlines at the beginning of 2016 when the Spanish turbine manufacturer confirmed that it was negotiating a merger with Siemens. In June, they eventually signed binding agreements for Siemens to buy Gamesa, but up for grabs was Adwen, Gamesa and Areva's 50/50 offshore wind joint venture. After several negotiations with interested parties, including other turbine manufacturers, the entire business went to Gamesa.
9.    Corporate purchasers of wind power also dominated headlines during the year: In fact, Google announced last month that it plans to be powered entirely by renewable energy in 2017. Among other renewables agreements, the company signed up for 225 MW of wind power from Invenergy's Bethel Wind Energy Facility in Texas. The corporate trend certainly didn't stop with Google: Over the course of the year, General Motors announced that it would power one of its Texas car factories with wind; Amazon made a slew of wind announcements, including establishing a 253 MW facility in Texas; and Bank of America, which already buys Texas wind power, said it would transition to 100% renewable energy. (AWEA recently released a report on the corporate purchases of U.S. wind power; more on that can be found here.)
10.    Lastly, what else has been trending overall? In an August report, AWEA, noting U.S. wind's continued growth, cited "technological advancements" and "better siting practices," both of which are leading to "improved turbine efficiency and cost-effectiveness." For example, look at the several repowering projects that companies have been undertaking: In December, Vestas inked its first U.S. repowering contract, which was for an undisclosed customer. A recent report from MAKE cited the PTC extension as an incentive for owners to either repower or retrofit their wind turbines. Repowering, the report said, allows them to "realize substantial returns from increased annual energy production" and reduce capital expenses in comparison to building a new project entirely. In addition, AWEA said in its report that as the wind industry grows – with "rapid growth and falling costs" – so, too, does Americans' support for it.