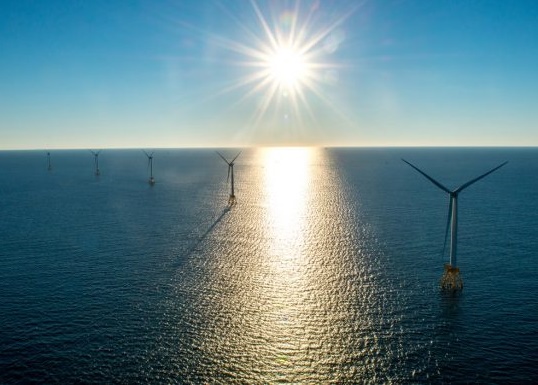 Offshore wind power is finally a reality in the U.S.: Deepwater Wind's Block Island Wind Farm is now delivering power to the grid.
The developer has announced that the 30 MW project, having completed its commissioning and testing phases, is now in commercial operations approximately three miles off the coast of Block Island, R.I.
According to the American Wind Energy Association (AWEA), the wind farm is supplying 17,000 average homes with energy, as well as keeping the island's costs down by displacing expensive diesel generators. In addition, AWEA says local fishermen have already reported that the newly constructed turbines are acting as artificial reefs.
"This is a triumph for the American worker and U.S. energy independence, and it's just the beginning," states Tom Kiernan, CEO of AWEA. "Offshore wind presents a unique opportunity for additional U.S. ocean energy development. Scaling up will create well paying American jobs and drive private investment to strengthen our infrastructure."
The energy produced from the project is linked to the New England grid by National Grid's new sea2shore submarine transmission cable system. Technicians from GE Renewable Energy, which supplied the project's five Haliade turbines, put the wind farm through its paces during the four-month testing period. The project's crew transfer vessel, the Rhode Island-built Atlantic Pioneer, transported technicians to the wind farm around the clock, says Deepwater Wind.
"Rhode Island is proud to be home to the nation's first offshore wind farm, and I'm proud to be the only governor in America who can say we have steel in the water and blades spinning over the ocean," says Gov. Gina M. Raimondo, D-R.I.
According to National Grid, the Block Island Wind Farm is expected to supply more than enough energy to meet Block Island's entire current demand of 3 MW to 4 MW. The excess will be redirected to mainland Rhode Island via the submarine cable, which runs between Block Island and the town of Narragansett.
"This is an historic achievement for our country, our customers and our company," comments Rudy Wynter, president and chief operating officer of National Grid's Federal Energy Regulatory Commission-regulated businesses. "We know that transmission is the key to unlocking and delivering the large amounts of renewable power our region needs to meet its clean energy goals, and we look forward to other developing projects that will support that endeavor."
"It's official: America's first offshore wind farm is powering homes and businesses with clean, reliable energy," adds U.S. Sen. Sheldon Whitehouse, D-R.I. "This is a historic milestone for reducing our nation's dependence on fossil fuels, and I couldn't be more thrilled that it's happening here in the Ocean State."
Deepwater Wind's supplier and construction partners included GE Renewable Energy, Gulf Island Fabrication, Fred. Olsen Windcarrier, LM Windpower and LS Cable, Montco Offshore, and Weeks Marine.
"Our success here is a testament to the hard work of hundreds of local workers who helped build this historic project and to the Block Islanders and the thousands more around the U.S. who've supported us every step of the way of this amazing journey," says Deepwater Wind's CEO, Jeffrey Grybowski.
The project recently faced a hiccup when a drill bit was left inside one of the turbine generators; however, Deepwater Wind maintained that project would still commence as planned.
Now, the company confirms that the two-year installation of the project was completed on time and on budget. In addition, more than 300 local workers helped develop, build and commission the wind farm.
The developer says it used four separate Rhode Island port facilities – ProvPort, Quonset Point, Galilee and Block Island – to complete the project's staging, construction and commissioning over the last two years.
Investors include Deepwater Wind's principal owner, an affiliate of the D.E. Shaw group; Citi; and GE Energy Financial Services, along with lenders Societe Generale, KeyBank, HSBC, SMBC, Cobank and La Caixa.
The project's local contractors included AECOM, Aero Mechanical Inc., AIS Observers, Aladdin Electric, Badd Brothers, Bay Crane New England, Blount Boats, Challenge Electronics, Communication Systems Inc., DiPrete Engineering, Duffy & Shanley, E.W. Audet, Eagle Elevator, ESS Group, Essex Newbury, Fuss & O'Neill, GeoEnvironmental, GZA, Hart Engineering, Hinckley Allen, Inspire Environmental, Keough & Sweeney, Mayforth Group, Meridan Ocean Services, Mott MacDonald, National Grid, Rhode Island Fast Ferry's Atlantic Wind Transfers, Specialty Diving Services, VHB, Waterson Terminal Services, and WF Shea.
According to Environment America, the completion and operation of the Block Island Wind Farm signals a breakthrough for offshore wind and the beginning of a new clean energy chapter for America. The group points out that offshore wind has been taking off around the world for over a decade while the U.S. has lagged behind.
"The United States has finally tapped into the tremendous resource of offshore wind," says Bronte Payne, a clean energy associate with Environment America.
Despite the progress made by the Block Island project, Environment America says, there is still work to do along the coast to ensure the drumbeat of development and investment continues and cements offshore wind as a key component to tackle climate change.
Deepwater Wind notes that it is actively planning offshore wind projects to serve multiple East Coast markets located 15 or more miles offshore, including Massachusetts, Maryland, New York, New Jersey and Rhode Island. Most recently, the developer announced plans for the Skipjack Wind Farm, a 120 MW offshore project that would be situated off the coast of Maryland.
"There is huge offshore wind potential along the Atlantic Coast, from Maine all the way to South Carolina," adds Payne. "To truly take advantage of this pollution-free resource, we need state leaders to make clear long-term commitments to powering their states with clean, renewable energy like offshore wind power.
"It is important that we build off this historic moment and ensure that the Block Island Offshore Wind Farm is the first of many powering the U.S.," Payne says.
"We've made history here in the Ocean State, but our work is far from over," Deepwater Wind's Grybowski adds. "We're more confident than ever that this is just the start of a new U.S. renewable energy industry that will put thousands of Americans to work and power communities up and down the East Coast for decades to come."
Likewise, Michael F. Sabitoni, president of the Rhode Island Building and Construction Trades Council, says he's confident that the Block Island Wind Farm is "just the first of many offshore wind projects that will put Americans to work up and down the East Coast for decades to come."