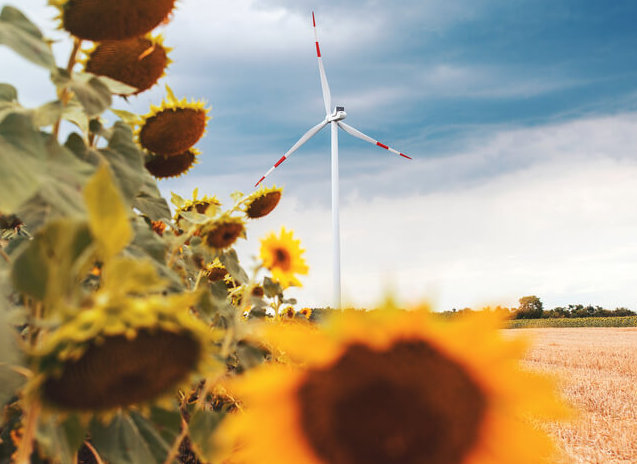 More than 40% more U.S. wind projects are under construction or in an advanced stage of development than at this time last year, according to second-quarter results released today by the American Wind Energy Association (AWEA).
Across the country, 29 wind projects, representing a combined 3,841 MW of power, announced that they either began construction or entered advanced development in April through June for a total of 25,819 MW of wind projects currently underway.
According to AWEA, that number is up more than 7,500 MW from the 18,279 MW underway as of one year ago – an impressive feat considering nearly 10,000 MW of additional wind projects came online over that time period and, therefore, were subtracted from the under-construction total.
Findings in the new "U.S. Wind Industry Second Quarter 2017 Market Report" show nearly 80% of current wind turbine construction and advanced development activity is found in the Midwest, Texas and the Mountain West. Other highlights in the second quarter include six major commercial and industrial customers buying U.S. wind power for the first time, including Apple and General Mills, and two offshore wind projects that were awarded Maryland offshore renewable energy credits (ORECs), a key step in their development.
Further, the report says, strong wind power development continued in rural America last quarter: Kansas just became the fifth state to surpass 5,000 MW of installed wind power capacity, as the largest U.S. wind project installed this quarter added 178 MW in the state. The wind industry in Kansas, which has enough wind capacity to supply 1.5 million average homes, supports nearly 6,000 jobs in the state and makes lease payments of up to $15 million a year to its farmers and ranchers.
Gov. Sam Brownback, R-Kan., declared, "In my first State of the State speech in January of 2011, I said that Kansas was already known as the Wheat State and the Sunflower State but that I wanted Kansas to also be known as the Renewables State. Fast-forward six years, and Kansas has made major strides to achieving that lofty goal. Today, Kansas can officially say it has joined the '5,000 Megawatt Club,' a distinction only four other states have achieved. But we don't intend to stop. A year ago, I announced another goal for Kansas – to be powered 50 percent by renewable energy by January 2019 – one of the most aggressive renewable energy policies in the country. Here's to the next 5,000 MW of wind energy capacity in Kansas and the jobs, businesses and private capital it brings to all parts of our great state."
AWEA points out that momentum behind offshore wind continued last quarter following 2016's completion of the U.S.' first offshore wind project, the Block Island Wind Farm off the coast of Rhode Island. Notably, during the second quarter of this year, the Maryland Public Service Commission awarded ORECs to two planned offshore wind energy projects that will total 368 MW.
Also in the second quarter, Massachusetts, in partnership with local electric distribution companies, issued a request for proposals for between 400 MW and 800 MW of offshore wind power.
In addition, according to the report, wind energy expanded to an entirely new industry when General Mills, the first grocery staples producer to purchase wind energy, signed a 15-year contract for 100 MW of Texas wind capacity. Other big-name corporate brands purchasing U.S. wind energy for the first time through long-term contracts included Apple, T-Mobile, Goldman Sachs, Akamai Technologies and Partners Healthcare. These companies joined other recent corporate purchasers such as General Motors and Proctor & Gamble.
In the second quarter, construction started on 2,495 MW of projects, while 1,346 MW entered advanced development. In turn, there are now 14,004 MW of wind projects under construction and 11,815 MW in advanced development. New wind power capacity added to the grid totaled 357 MW – a number similar to the second quarter of last year, says AWEA.
Nationally, the U.S. now has 84,405 MW of installed wind power capacity; more than 52,000 commercial wind turbines are currently operating in 41 states plus Guam and Puerto Rico.
"The path to unlocking America's full energy potential is clear with another strong jump in the number of wind projects moving forward," states Tom Kiernan, CEO of AWEA. "Wind energy makes our power system more reliable and resilient and protects consumers by diversifying our energy mix. The wind industry is propelling American energy production, manufacturing and job creation into the 21st century."
AWEA plans to celebrate the rapid growth of the industry and its benefits to rural America with its first-ever "American Wind Week," running Aug. 6-12 and featuring tours of wind farms and factories and other opportunities to learn more about wind. The week's festivities will be capped with a community fair at noon on Saturday, Aug. 12, in the town square in Fowler, Ind. – with a population of 2,300 – whose economy has been transformed by several nearby wind farms.