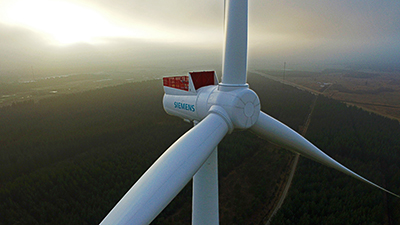 Siemens Wind Power has installed the latest version of its offshore direct-drive wind turbine at Denmark's national test center in Osterild.
The SWT-8.0-154 is rated at 8 MW and is equipped with a 154-meter rotor. The prototype was certified by DNV GL earlier this month – confirming all relevant safety features for testing, says Siemens.
The new offshore turbine was installed on a steel tower at a hub height of 120 meters. The prototype will be used for both mechanical and electrical testing, and the final type certificate is expected for 2018.
With the full commissioning of the prototype, Siemens will enter the final development phase for the new turbine, which allows for up to 10% higher annual energy production under offshore wind conditions (compared with the 7 MW model).
In addition, the upgrade to 8 MW enables a rated power increase of more than 14% from 7.0 to 8.0 MW (similar to the previous upgrade from 6.0 MW to 7.0 MW). Siemens says the higher rating will be achieved with only a few component upgrades, including a new cooling concept and a new control system.
"The installation of the SWT-8.0-154 prototype in Osterild is an important milestone in the success story of our offshore direct-drive wind turbines," states Michael Hannibal, CEO of offshore at Siemens Wind Power. "The evolution based on our platform strategy demonstrates that innovation to lower the cost of wind energy can work without compromising the proven reliability of a technically mature product."