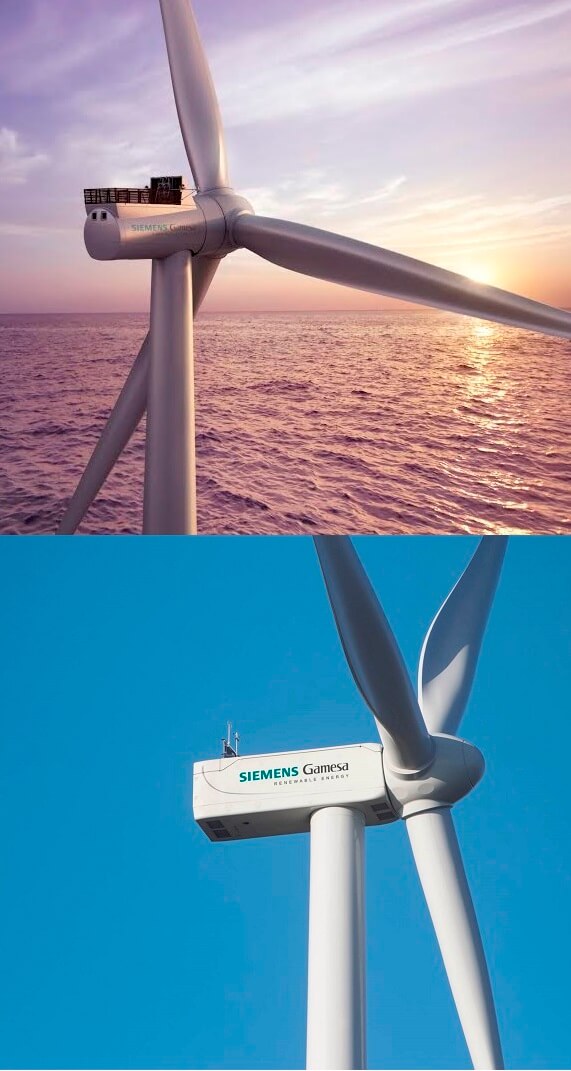 Combining the experience of both Siemens and Gamesa, Siemens Gamesa Renewable Energy (SGRE) is launching new wind power solutions: the SG 4.2-145 onshore turbine and the SG 8.0-167 DD offshore turbine.
The SG 4.2-145, featuring a 145-meter rotor, can be adjusted between 4.0 MW and 4.4 MW and to different tower configurations that allow for hub heights of 107.5, 127.5 and 157.5 meters. Two converter options also help comply with enhanced demands in grid performance, the company notes.
The new 71-meter blades offer a risk-reduced design in terms of airfoil polar curves through wind tunnel test validation, says SGRE. Due to a high absolute thickness at its root sections, the blade achieves reduced mass at a minimized cost, according to the company. In addition, chord alleviations in the midsections reduce maximum loads, while optimized tips mitigate noise: At full load, the turbine's noise level is 106.9 dB. Compared with the G132-3.465 MW turbine, the new SG 4.2-145 offers an increased swept area of 21%, resulting in an enhanced annual energy production (AEP) of more than 21%.
A prototype installation of the new onshore turbine is planned for fall 2018, while certification is expected for 2019. The start of production will be in early 2019, says SGRE. Further models for high- and low-wind sites are currently under development.
The latest turbine in the offshore DD platform, the SG 8.0-167 DD will offer a rotor diameter of 167 meters and will reuse all other components from its predecessor, the SWT-7.0-154, thus facilitating a short time to market, says SGRE. Notably, it will allow for an 18% greater swept area and up to 20% higher AEP than its predecessor, according to the company.
In January, the first prototype in the company's 8 MW class was installed and commissioned according to plan in Østerild, Denmark. While this prototype testing focuses on the electrical system, an additional SG 8.0-167 DD prototype will be installed in Østerild in 2018. With a larger rotor, it will be used mainly for blade tests.
The SG 8.0-167 DD is expected to be market-ready in 2020. To accelerate the time to market, SGRE is collaborating with Fraunhofer IWES in Bremerhaven, Germany. In addition to in-house testing and prototype operation, the nacelle of the 8 MW turbine will undergo laboratory tests in the institute's Dynamic Nacelle Testing Laboratory. The program, including load simulations and grid compliance tests, will start in the spring and will be completed by the end of 2018.
Through technology improvements in the blade's structural components, SGRE engineers have designed the 81.5-meter-long B82 blade of the offshore platform with less than a 20% increase in mass compared to the B75, according to SGRE. Both blade types are manufactured as fiberglass components and cast in one piece using SGRE's patented process.
With the launch of the new SG 4.2-145 and the SG 8.0-167 DD, SGRE has also adopted a product denomination fitting the company name: The SG for Siemens Gamesa is followed by the turbine's rating and then the rotor diameter. All new SG direct-drive units have a DD at the end of the product name.
Moreover, both product launches are part of SGRE's new "One Segment/One Technology" philosophy, announced in early November. By 2020, the company will have one technology per business segment. In onshore, SGRE will streamline its technology approach and focus on geared solutions. In offshore, SGRE will opt for the direct-drive platform only.
To drive down operational costs of wind projects, SGRE has also announced an expansion of its operations and maintenance (O&M) services to third-party technology. This includes not only O&M but also life-extension and retrofit solutions for enhanced AEP.