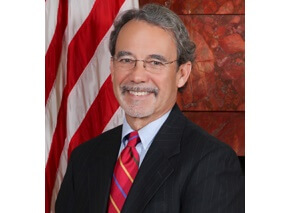 As part of the Northeast Clean Energy Council's (NECEC) annual Rhode Island Clean Energy Day, clean energy business stakeholders convened at the Rhode Island State Capitol last week, when the council also named its 2017 Rhode Island Clean Energy Champion.
In recognition of his support of clean energy initiatives, Sen. William J. Conley Jr., D-Dist. 18, East Providence, Pawtucket, was awarded the title of Clean Energy Champion. Last year, Conley supported a package of bills to enhance the state's renewable energy policies and create green jobs. The legislation was signed into law in July, says Rhode Island's general assembly.
"Since joining the Rhode Island Senate in 2012, Sen. Conley has been a tireless champion for the clean energy industry," says Peter Rothstein, NECEC president. "His leadership has been instrumental in securing the policy frameworks that have allowed clean energy jobs to expand rapidly in Rhode Island in recent years."
"I am incredibly honored to be recognized by such a prestigious organization," states Conley, who serves as chairman of the Senate Finance Committee. "The Senate's Grow Green Jobs RI plan was designed to make things easier for green industries, incentivize growth in those industries and remove some of the bureaucratic barriers that face those businesses."
NECEC has also released its 2017 Rhode Island Clean Energy Policy Priorities, which outline key policy priorities, including the extension of Rhode Island's Renewable Energy Growth program, which is slated to end in 2019.
Other priorities include strengthening interconnection standards and deadlines, protecting Rhode Island's energy efficiency programs, unlocking the benefits of municipal aggregation, creating a statewide solar permit, establishing an electric vehicle rebate program, and supporting key legislation that will continue Rhode Island's clean energy progress.
Earlier this year, Gov. Gina Raimondo, D-R.I., set forth an ambitious goal to grow increase the state's renewable energy sector by a whopping 1,000%.