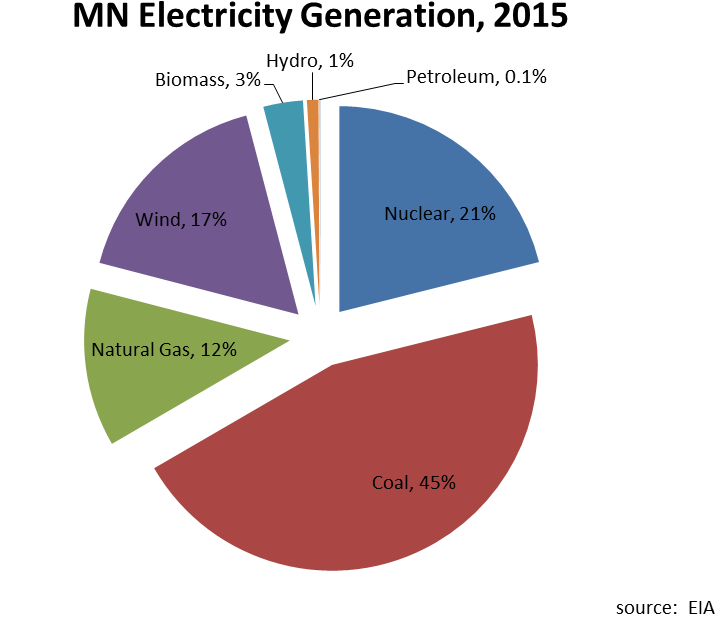 Minnesota, which generated 21% of its electricity from renewable energy – wind, solar, hydro and biomass – in 2015, is well on pace to exceed its renewable portfolio standard (RPS) of 25% by 2025, according to a recent report from the Minnesota Department of Commerce.
In 2007, says the department, Minnesota adopted the Next Generation Energy Act, which established the 25% RPS. Legislation passed in 2013 also established a solar energy standard, which requires 1.5% of electricity to come from solar energy by 2020 and includes a goal of 10% by 2030.
According to 2015 year-end figures compiled by the commerce department and the U.S. Energy Information Administration, 17% of the state's electricity was generated by wind power – compared with just 3% in 2005. Meanwhile, coal-fired electricity dropped from 62% in 2005 to 44% in 2015.
Although it contributed less than 1% of the state's electricity in 2015, solar energy is primed for dramatic growth, according to the department, which says that in 2016 alone, Minnesota's solar power generation is expected to increase 15-fold. In particular, Xcel Energy estimates at least 250 MW will be installed this year as part of its community solar garden program.
"We have reduced our dependence on polluting coal that must be imported from outside the state while increasing our own clean energy made right here in Minnesota," states Mike Rothman, commerce commissioner. "It's a tremendous benefit for our energy sector, our economy and jobs, and our environment."
He adds, "Recent action by Congress that extends federal wind and solar tax incentives for five years will add further momentum to renewable energy growth. It makes good sense for Minnesota to now look at boosting our renewable energy standard to at least 40 percent by 2030 and beyond."