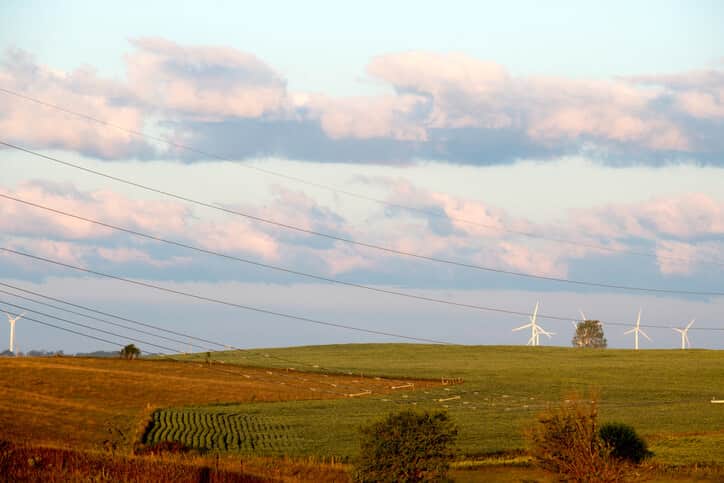 Iowa produces more electricity from wind per capita than any other state, but importantly, according to new findings from the Iowa Policy Project (IPP), the state's leadership in wind production has not come at a great expense to ratepayers.
"This is one more success story for clean energy," says David Osterberg, lead environmental researcher and founder of the IPP, which describes itself as a nonprofit, nonpartisan organization that produces research and analysis to engage Iowans in state policy decisions.
"As the wind industry has grown, the price per kilowatt-hour continues to be significantly lower than the U.S. average," Osterberg adds. "In fact, the price is actually lower in real terms in Iowa when you account for inflation. Electricity costs less than it did when the industry got going in Iowa."
According to Osterberg, electricity price data shows that since the first large wind farms were connected to the electric grid in 1999, Iowa's average electricity prices have diverged further and further from the national average.
A recent Navigant Consulting report, as highlighted by the Iowa Wind Energy Association and the American Wind Energy Association, said that by continuing to grow the state's thriving wind industry, more than 17,000 wind-related jobs could be in Iowa by 2020. In addition, according to a recent U.S. Energy Information Administration report, Iowa's percentage of total wind generation grew from 31.5% in 2015 to 36.6% in 2016.
"Contrary to some of the warnings we heard two decades ago, the growth of wind power to 36 percent of the electricity we use in Iowa has not hurt our competitiveness in attracting businesses. It has not hurt our efforts to keep household spending for electricity under control," Osterberg says.
"It may well be that wind power is an important economic development tool for Iowa at the moment – because we know companies pay attention to what they pay for energy," he adds.
More on the report can be found here.