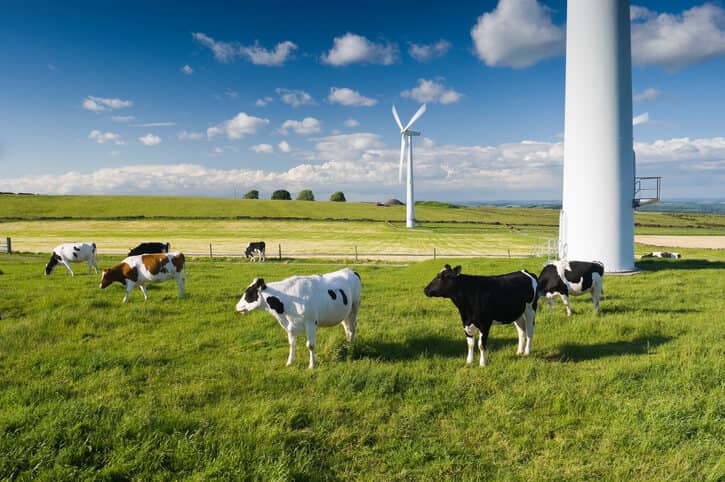 Five Heartland states – Iowa, South Dakota, Kansas, Oklahoma and North Dakota – all sourced more than 20% of their electricity generation from wind power during 2016, says the American Wind Energy Association (AWEA), citing newly released data from the U.S. Energy Information Administration (EIA).
In addition, the EIA report shows that wind supplied more than 5.5% of electricity nationwide – compared with 4.7% in 2015.
With 99% of wind turbines located in rural areas, explains AWEA, wind power's steady growth as a share of the nation's electricity supply has been accompanied by a surge of investment in rural America.
According to AWEA, EIA's statistics also show that wind turbines operating in 40 states generated a record total of 226 million MWh during 2016 – which totals approximately four times the amount of the country's solar electricity production.
In Oklahoma in particular, wind's share of total electricity generation grew from 18.4% in 2015 to 25.1% in 2016. In Iowa, wind grew from 31.5% to 36.6% – the highest percentage in the nation – and in Kansas, wind's share increased from 24.1% to 29.6%.
AWEA says the Dakotas also saw significant gains: South Dakota became the second state in the country to generate over 30% of its electricity from wind energy, and North Dakota rose to 21.5% wind.
Furthermore, other states are close behind; in total, 14 states produced over 10% of their electricity from wind in 2016, and 20 states generated over 5%.
New Mexico, in particular, posted impressive generation gains: The state's total annual wind generation grew by nearly 73% from 2015 levels – bringing the state to a 10.9% wind share in 2016.
Looking ahead, the association says, America's grid operators have expressed confidence that they are ready for a further expansion of wind power. The Southwest Power Pool, which operates the electricity grid from Montana to the northern tip of Texas, recently exceeded 50% wind penetration for a period of time in early February.
EIA also says the Electric Reliability Council of Texas (ERCOT) system, which covers most of Texas, continues to set records for the highest level of wind generation on any U.S. electric system. ERCOT's most recent record of 16,022 MW occurred on the morning of Dec. 25, 2016, and accounted for slightly more than 47% of the generation mix at the time, according to the report.
"Wind is now cheaply and reliably supplying more than 20 percent of the electricity in five states and is a testament to American leadership and innovation," comments Tom Kiernan, AWEA's CEO. "For these states – and across America – wind is welcome because it means jobs, investment and a better tomorrow for rural communities."
However, EIA points out that although installed wind generating capacity surpassed conventional hydroelectric generating capacity last year, hydro generation will likely exceed wind generation this year.
Specifically, according to EIA, compared with other electricity generating sources – nuclear, geothermal and combined-cycle natural gas – hydro and wind have lower average capacity factors (i.e., generation output as a percentage of total generating capacity). In addition, both sources are sensitive to fluctuations in weather conditions such as droughts, heavy precipitation and changes in regional wind patterns.
However, given hydro's historically higher capacity factors compared with wind and the expected strong hydrological conditions on the West Coast this year – such as the recent heavy rainfall in California and the Pacific Northwest – hydro generation in 2017 will likely still be higher than wind generation, even with anticipated continuing additions of new wind capacity throughout the year, says EIA.