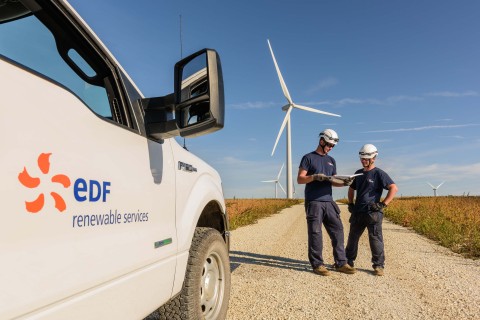 EDF Renewable Energy (EDF RE) says that it is the leader in U.S. market share for the development of new wind energy capacity additions in 2015. The company says it has developed 1,055.4 MW of installed capacity across five states, giving it a 12% market share.
The EDF RE capacity additions include projects in some of the top states for wind power production (Kansas, Texas and Iowa), according to the American Wind Energy Association's fourth quarter 2015 report, and comprise the following eight projects:
Slate Creek Wind (150 MW) Kansas;
Alexander Wind (48.3 MW) Kansas;
Spinning Spur 3 Wind (194 MW) Texas;
Longhorn Wind (200 MW) Texas;
Carroll Area Wind (20 MW) Iowa;
Milo Wind (18 MW of 49.65 MW) New Mexico;
Roosevelt Wind (250 MW) New Mexico; and
Pilot Hill Wind (175 MW) Illinois.
In addition to posting top market positions in project development, the operations and maintenance group, EDF Renewable Services, reported 10.7 GW of wind, solar, bioenergy and storage under contract in 26 states and provinces in North America.