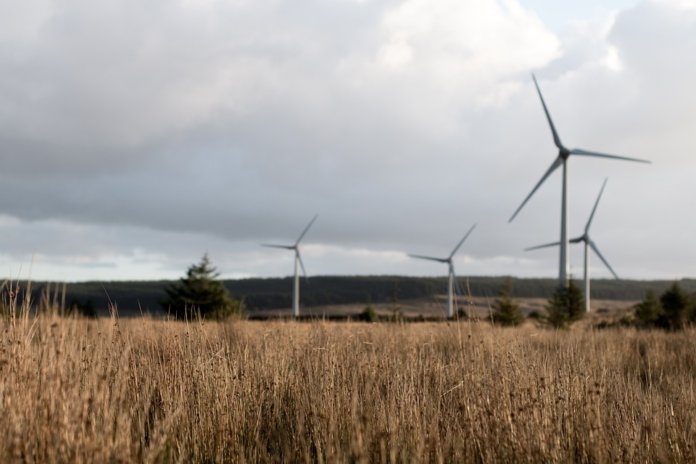 Fortune 500 brands and a range of other non-utility entities, including cities and universities, are catalyzing America's growing demand for renewable energy by purchasing a record amount of wind power, according to the American Wind Energy Association's (AWEA) fourth-quarter report.
AWEA's U.S. Wind Industry Fourth Quarter 2018 Market Report reveals that non-utility customers, such as AT&T, Walmart, ExxonMobil and Shell Energy, purchased a record 4,203 MW of wind power capacity in 2018 through power purchase agreements (PPAs).
Contracted wind capacity from non-utility customers in 2018 surged 66% higher than the previous high-water mark in 2015. Further, data from the Business Renewables Center confirms that wind provides more energy to corporate brands than any other renewable source.
"A rapidly growing number of big brands and utilities clearly understand that for American consumers, it's no longer enough for energy to be affordable and reliable – it must also be clean," says Tom Kiernan, CEO of AWEA. "Businesses are responding to their customers by seeking out the lowest-cost clean energy they can find to power their products and operations reliably. Wind power's record-setting 2018 proves you really can have it all."
For consumer-facing brands like Budweiser, wind power has become both a major energy source and selling point, notes AWEA. In fact, Budweiser is putting wind power right at the center of its Super Bowl 2019 strategy with a commercial entitled "Wind Never Felt Better," featuring Clydesdales and a dalmatian alongside wind turbines – set to the soundtrack of Bob Dylan's "Blowin' in the Wind." With the ad and a new label, Budweiser wants customers to know every bottle of its beer is brewed with 100% wind energy supplied by Enel Green Power's Thunder Ranch wind farm in Oklahoma.
According to the report, wind power also continues to be a popular choice for major utilities that must balance ratepayer expectations for affordable, reliable and clean energy. Utilities signed contracts for 4,304 MW of wind power in 2018 that, when combined with non-utility purchases, reached the highest level on record for overall PPA activity, with 8,507 MW in 2018.
Strong consumer demand and stable policy also helped the industry surge to its third-strongest quarter on record for new wind power capacity additions. New wind farms totaling 5,944 MW were installed nationally in the fourth quarter of 2018, enough to power all the homes in Colorado or Massachusetts, according to AWEA.
New wind farm installations in the fourth quarter were concentrated in the "American Wind Belt" from Texas on up through North Dakota. Notably, Iowa reclaimed second place for total installed wind capacity from Oklahoma, which had snagged the spot in 2017. Texas continues to hold a wide lead in first place. South Dakota joined the gigawatt club of states with more than 1,000 MW of installed wind capacity, making it the 19th state to do so.
In total, the industry commissioned 7,588 MW of wind power capacity in 2018. There is now 96,488 MW of cumulative installed wind capacity in the U.S., with more than 56,800 wind turbines operating across 41 states.
Further, the report says, the cost of wind has fallen by 69% since 2009, and it fell 7% in 2018 alone, according to investment firm Lazard.
The report points out that the industry's strong 2018 is continuing this year. In the fourth quarter, projects totaling 2,125 MW started construction, and a further 3,661 MW entered an advanced development phase. There is now 35,095 MW of wind power capacity either under construction, 16,521 MW, or in advanced development, 18,574 MW, representing a 22% year-over-year increase in the development pipeline.
As with land-based wind farms, momentum is accelerating for the U.S. offshore wind market, the report notes. Major energy businesses such as Equinor, Ørsted and Shell are locked in fierce competition to be the first to harness American offshore wind at scale. In December, winning bids for three Massachusetts lease areas generated a combined $405 million in federal revenue, smashing the previous record bid of $43 million for a New York lease area.
"Our industry is driven to deliver the most competitive product possible," adds Kiernan, "and we're confidently moving forward to further cut costs and advocate for improvements that bring markets and power grid infrastructure into the 21st century."