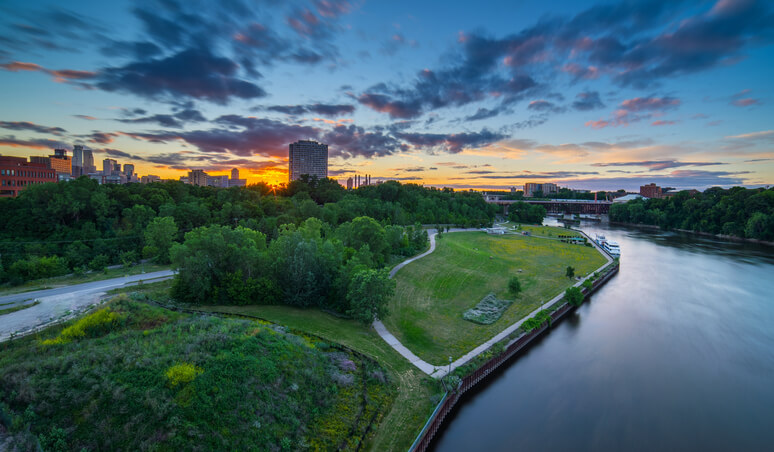 Thanks to Xcel Energy's Renewable*Connect program, the Minneapolis Convention Center and one of the city's two drinking-water facilities will be powered in part by local wind and solar energy.
The City of Minneapolis and Xcel Energy have a new agreement under which the city will purchase 17.8 million kWh of solar and wind energy annually. Of this total, 14 million kWh will be used for the Minneapolis Convention Center. The other 3.8 million kWh under the agreement will be used for the city's water-treatment services.
"We're excited to roll out this unique and affordable program that gives our customers more renewable energy options generated right here in Minnesota," says Chris Clark, president of Xcel Energy-Minnesota. "The City of Minneapolis' participation in the program will demonstrate to convention center visitors and residents here at home the overall commitment to sustainability we have in our community."
Of the electricity Minneapolis uses overall, 38.6% will now come from renewable sources, Xcel Energy notes. In addition, all of the electricity the convention center uses will come from renewable sources.
"Now more than ever, it is vital that we stay committed to Minneapolis' ambitious climate goals that are detailed in our city's climate action plan," adds Mayor Betsy Hodges. "We are doing so by reducing our reliance on fossil fuels and investing in renewable energy resources."
Approved by the Minnesota Public Utilities Commission earlier this year, the Renewable*Connect program provides month-to-month, five-year or ten-year options for participants. Energy from the Odell Wind Farm in southern Minnesota and North Star Solar project in North Branch, Minn., were reserved for the program. In addition, Renewable*Connect Government, announced late last year, will power a portion of the newly renovated Minnesota State Capitol.
Xcel Energy retires renewable energy credits (RECs) on behalf of program participants – in turn, enabling customers to use those credits in their reporting, a key requirement for businesses with sustainability programs. Independent organization Green-e.org then verifies the REC retirement, providing documentation that the energy used by participating customers is from the dedicated renewable energy source.