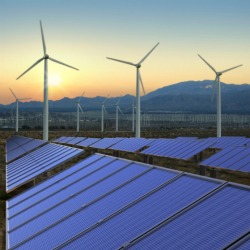 Women of Wind Energy (WoWE), an organization that has long promoted the education, professional development and advancement of women in the wind industry, is opening its programs and services to go beyond its wind energy legacy.
In response to ongoing conversations with stakeholders and recent industry trends, WoWE says it will continue to work with the wind industry, but the group will now also broaden its scope to include solar, energy storage, energy efficiency, energy management, and power marketers focused on renewables, transmission, distributed generation, and smart grid technologies. As such, WoWE is working to develop a new name and logo to support its expanded scope and direction.
"It is an exciting time as the renewable energy sector grows and women enter the workforce in increasing numbers," said Kristen Graf, WoWE's executive director. "We look forward to working with a broader community of industry professionals to advance, connect and empower women across various fields who are engaged in moving the world toward a renewable energy future."
"As an organization that, itself, just expanded its scope and re-branded to the Smart Electric Power Alliance from the Solar Electric Power Association, SEPA appreciates WoWE's recognition of the value in taking a broader perspective on the changes happening in the power sector," said Julia Hamm, president and CEO of SEPA. "WoWE's proven model and structure can be incredibly supportive in advancing women across all renewable energy related sectors."
Tom Kimbis, interim president of the Solar Energy Industries Association, added, "SEIA is committed to advancing women's empowerment in the solar industry. Coming off two highly successful SEIA women's empowerment events in Washington and San Francisco, we look forward to collaborating with WoWE to increase the impact of existing programs and explore new ones."
"We greatly look forward to joining forces with WoWE to ensure our continued commitment to diversity in the energy storage industry produces demonstrable results for our community," commented Matt Roberts, executive director of the Energy Storage Association.