Wind sector venture capital (VC) funding picked up significantly during the second quarter of this year (Q2'13), amounting to $210 million compared to just $16 million last quarter, finds a new report from Mercom Capital Group.
The report says some large deals going to project developers in India helped with the quarterly increase. ReNew Power, an Indian wind project developer, attracted $135 million from Goldman Sachs, which raised its total investment in the company to $385 million so far.
NSL Renewable Power, also a project developer from India, received $60 million in funding from multiple investors. In two smaller funding deals, IDEOL, a designer and installer of foundations for offshore wind projects, raised $9.1 million, and $6.2 million was received by ROMO Wind, a wind technology company focused on improving wind turbine rotor function.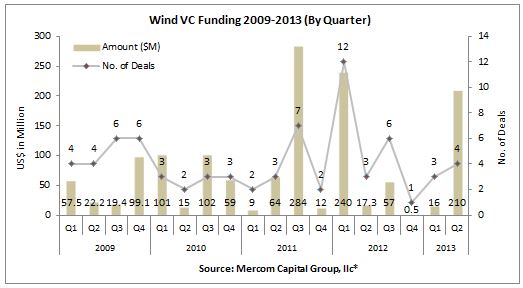 The report says announced large-scale project funding in Q2'13 totaled $3.2 billion in 24 deals compared to $6.2 billion in 29 deals in Q1'13. There were a total of 42 investors that participated in project funding deals this quarter.
In addition, there were six merger and acquisition (M&A) transactions in Q2'13, amounting to $328 million. The report says the top M&A transaction was the acquisition of Salus Fundos de Investimento em Participacoes (Salus) by Copel for ~$128 million.
PNE WIND purchased a 54% share in WKN from former shareholder Volker Friedrichsen Beteiligungs for ~$122 million. Aksa Energy acquired 93% stake in Kapidag Ruzgar Enerjisi Elektrik Uretim for ~$67 million. Marmen, a machining, fabrication and mechanical assembly company, acquired a wind tower plant from Broadwind Energy, an independent services provider, for ~$11.7 million. The report says Makani Power was acquired by Google for an undisclosed amount, reportedly for its secret Google X skunkworks laboratory, and Urban Wind acquired Myriad Wind for an undisclosed amount.
There was significant project acquisition activity in Q2'13, the report continues. Thirty-six project acquisitions took place during the quarter, the highest in terms of number of transactions since 2010. There have been 53 project acquisitions year-to-date (YTD) compared to 72 in all of last year.
"The strong project acquisition activity shows how wind has evolved into a mature and mainstream energy source and an attractive investment for both private and public firms alike," comments Raj Prabhu, CEO of Mercom Capital Group.
The report says most of the project acquirers this quarter were investment funds. Allianz Capital Partners acquired three projects this quarter, followed by Enel Green Power, John Laing and Lukerg Renew with two each.
The largest project acquisition by amount was utility PG&E's acquisition of Puget Sound Energy's 267 MW Lower Snake River Phase II Wind Project for $535 million, followed by Scottish and Southern Energy's acquisition of the 99 MW Dunmaglass Wind Project from Renewable Energy Systems for $305 million.
Palisade Investment Partners and Northleaf Capital Partners acquired 75% of the 111 MW Waterloo Wind Project from EnergyAustralia for $227 million. Romania's Lukerg Renew acquired the 70 MW Gebeleisis Wind Project from Vestas for $144 million, while Danish energy company SE and Denmark's Pension Fund Administrator (PFA) acquired the Danish onshore wind business (196 MW) of DONG Energy for $133 million.
Of the disclosed transactions in Q2'13, the report says there were 15 investment funds that acquired wind projects, eight project developers, six independent producers, and four utilities.
To learn more about the Mercom Capital Group report, click here.