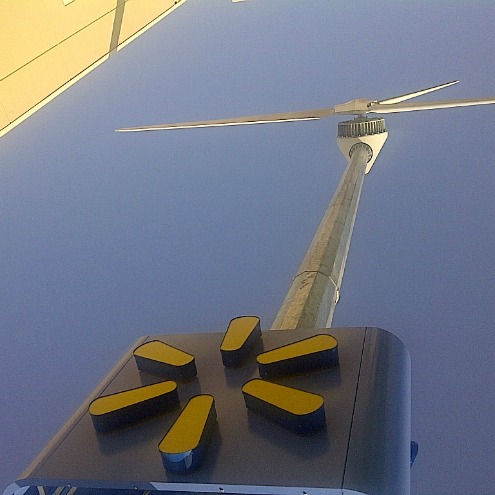 A GE 1.5 MW SLE wind turbine that rises above Walmart's Red Bluff, Calif., distribution center has caused quite a stir. The 265-foot-tall turbine has become a local attraction to passers-by since its September 2012 installation, explains Greg Pool, director of energy at Walmart.
'The [distribution center] manager out there is becoming a local celebrity,' Pool jokes. 'He certainly gets a lot of questions about it.'
For Walmart, however, the wind turbine is far more than a novelty: It represents the next step toward reaching the company's goal to eventually obtain 100% of its electricity from renewable sources, such as wind and solar.
According to a company spokesperson, Walmart has 180 renewable energy projects in operation or under development, and is continuing to test solar, fuel cells, micro wind, off-site wind projects and, more recently, combining wind energy with battery storage.
'We are learning and making adjustments on our way toward one day being powered by 100 percent renewable energy,' the spokesperson notes.
Walmart operates more than 100 distribution centers across the U.S., and the company says it is examining the suitability of other sites for wind power.
The GE wind turbine supplies 25% of the distribution center's electricity load. Walmart is buying the electricity generated by the turbine under a 15-year power purchase agreement with Foundation Windpower, which installs, owns and operates the Red Bluff wind turbine.
Although the turbine has only been operating for less than a year, Walmart is already encouraged by its performance – so encouraged, in fact, that the company is thinking about installing wind turbines at other sites.
'We are pursuing wind energy and renewable energy at a lot of different levels,' Pool says. 'There's a full list of distribution centers that we are now working through."
Future wind sites will be determined by the price of electricity, the wind resource at the location, and the available federal and state incentives, he adds.
John Pimentel, president of Menlo Park, Calif.-based Foundation Windpower, says several 'behind the meter' factors help wind energy compete with retail electricity rates, even though the wind resource at the site is only moderate.
'There are other sites that are windier,' Pimentel admits. However, he explains that because the company's turbine ties directly into the grid, there are no line losses. Additionally, the distributed generation project did not have to engage in a long and costly transmission study, which meant there were fewer interconnection costs.
Walmart also feeds electricity back to Pacific Gas and Electric Co. through the utility's net-metering program. However, California caps generating capacity under the state's net-metering program at 1 MW. Therefore, the GE turbine at the site was de-rated from 1.5 MW to 1 MW in order to qualify for the program.
Walmart also participates in the California Self-Generation Incentive Program, which provides an incentive for the installation of distributed generation technologies, such as wind turbines, fuel cells and advanced energy-storage technologies. For wind energy, the incentive pays $1.19/W.
In addition to on-site generation, Walmart's wind energy initiatives include an off-take agreement to buy approximately 60% of the output from Duke Renewable Energy's 153 MW Notrees wind farm, located in Texas' Ector and Winkler counties. Walmart says the Notrees project provides 15% of the power for more than 300 Walmart and Sam's Club stores.
Walmart has also expanded its wind energy initiatives to other countries. In Mexico, wind supplies 17% of the energy needed to power 348 Walmart de Mexico stores and fulfills 100% of the electricity needs for 14 Northern Ireland stores.
Photo credit: Walmart