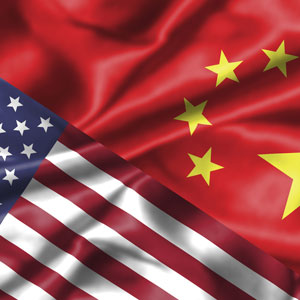 In a landmark agreement between global superpowers, the U.S. and China have jointly agreed on a series of sweeping initiatives aimed to cut greenhouse-gas emissions.
The deal, reached during President Obama's recently concluded trip to China, not only extends the president's existing Climate Change Action Plan, but also places limits on the amount of carbon emitted by China for the first time.
The U.S. will set a new target of cutting net greenhouse-gas emissions 26% to 28% below 2005 levels by 2025 – nearly doubling its current plans. The new plan will require the U.S. to double the pace of carbon pollution reduction from 1.2% per year on average during the 2005-2020 period to 2.3% to 2.8% per year on average between 2020 and 2025.
This ambitious target is grounded in intensive analysis of cost-effective carbon pollution reductions achievable under existing law and will keep the U.S. on the right trajectory to achieve deep economy-wide reductions on the order of 80% by 2050.
For its part, China's President Xi plans to increase the share of renewable energy and nuclear power that China uses to roughly 20% by 2030. To reach that target, it will require China to deploy an additional 800 GW -1,000 GW of nuclear, wind, solar and other zero-emission generation annually – more than all the coal-fired power plants that currently exist in China and nearly equal to the total current electricity generation capacity in the U.S.
As the U.S. and China account for more than a third of global greenhouse-gas emissions, an agreement to substantially reduce pollutants will certainly jump-start negotiations in advance of next year's United Nations Climate Change Conference in Paris.
The objective of the climate change conference – which begins Nov. 30, 2015 – is to achieve a legally binding and universal agreement on climate. The U.S. says it plans to submit its 2025 target plans no later than the first quarter of next year.
While the agreement is ambitious, it is unclear how feasible it would be for either superpower to reach its goals. For starters, the plan's many milestones will occur after Obama is out of office. More pressing, however, is the fight that is certain to come from the Republican-controlled Congress, many of whom were already upset by Obama's 2009 Climate Change Action Plan.Â
Joint cooperation
To support the agreement, the U.S. and China are expanding dialogue and technical work on clean energy and low greenhous-gas emissions technologies.
For example, several U.S. agencies, including the Department of Energy, will undertake a number of additional pilot programs, feasibility studies and other collaborative efforts to promote China's energy efficiency and renewable energy goals. These will include expansion of our cooperation on "smart grids" that enable efficient and cost-effective integration of renewable energy technology, as well as the implementation through a U.S. and Chinese private-sector commercial agreement of a first-of-its-kind 380 MW concentrating solar plant in China.
For its part, the American Wind Energy Association (AWEA) say the bilateral agreement sends a market signal to private investors to continue investing in wind energy, among other clean electric power solutions. More importantly, the agreement also signals that the U.S. Environmental Protection Agency's proposed Clean Power Plan to reduce emissions from electric power plants is the right policy at the right time.
'Wind power is one of the biggest, fastest, cheapest ways to reduce carbon pollution, and it means American workers can make more of our own energy right here in America,' says Tom Kiernan, CEO at AWEA. 'This agreement sends the right message to businesses and investors that scaling up clean energy not only benefits our economy, but will continue to be supported at the highest levels as something the world needs.'