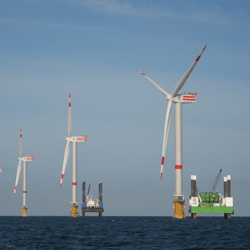 Trillium Wind Power Corp. has spent the past 15 years working toward developing four offshore wind projects in the Canadian side of the Great Lakes. But a recent decision by the Ontario government to stop offshore wind development puts the developer's pipeline of up to 3,500 MW in jeopardy.
Ontario's Ministry of Environment (MOE) took many in the wind industry by surprise when it announced that it was halting development of proposed offshore wind projects while further scientific research is conducted. Â
John Kourtoff, Trillium's CEO, says there are no environmental issues with wind projects that are located 10 km out.
'We're directly on bedrock – there's no sediment or silt issue or water quality issue,' he says. Â
But the MOE cited a lack of scientific studies regarding offshore wind development in freshwater when justifying the decision. Â
"Offshore wind, especially development in freshwater, is still in the early stages," says Kate Jordan, spokesperson for MOE.Â
The government of Ontario says it is concerned with developing wind projects in freshwater locations. There are currently no offshore wind projects in operation in North America. The MOE says it plans to monitor the recently installed Lake Vanern pilot project in Sweden. It will also observe a 20 MW pilot project proposed by the Great Lakes Energy Development Task Force for Lake Erie in Ohio.Â
'You don't become a leader by watching others,' says Kourtoff. 'You're a leader by moving forward and by making things happen. Ontario was a leader at this. If this doesn't get fixed, it will not be the leader.'Â
Kourtoff says the MOE's decision is not a moratorium, but rather an outright cancellation of projects. According to Ontario's Environmental Registry, applications for offshore wind projects in the feed-in-tariff (FIT) program will no longer be accepted, and current applications will be canceled.Â
In addition, the Ministry of Natural Resources (MNR) will be cancelling all existing Crown land applications for offshore wind development that do not have a FIT contract, including those with Applicant of Record status. The MNR will not accept any new Crown land applications for offshore wind development.Â
In June 2010, the MOE and MNR posted separate policy proposals regarding offshore wind power development. The departments received many comments opposing offshore wind development. Concerns include potential impacts to fisheries and birds, changes to natural coastal processes, and impacts to commercial and recreational fishing.Â
Kourtoff calls the need for more research 'rubbish.'Â
'It's absolute rubbish because [then-Minister Donna Cansfield] said they've already done studies,' he says.Â
Kourtoff is referring to a 2008 decision by the Ontario government to lift an offshore wind moratorium that had been in place since 2006. A press release issued at the time said the moratorium was lifted after the province had taken steps to ensure that applications for onshore and offshore wind development were based on the best available information, including the following:Â
– Partnering with the U.S. National Renewable Energy Laboratory to evaluate offshore wind potential in the Great Lakes;
– Analyzing lakes Erie, Huron and Ontario, including depth, wind speed and other social and ecological values;
– Developing wind power guidance documents for birds and bats; and
– Establishing a partnership with Bird Studies Canada, the Canadian Wind Energy Association (CanWEA) and Environment Canada's Canadian Wildlife Service to set up a common database for monitoring wind power's impact on birds and bats.
Kourtoff speculates that lingering opposition to onshore wind projects influenced the MOE's decision.Â
'I'm sure it had something to do with onshore, because there has been a lot of pushback with onshore,' he says. 'Offshore ends up being thrown under the bus. There's been opposition by a vocal minority, and we've become the collateral damage.'Â
No one from the government has been in touch with Trillium to explain the decision or what will happen next. Â
'We haven't heard a thing from anyone about anything,' he says.Â
Jordan notes that projects will receive refunds for the site release permitting process. Kourtoff says his company identified the offshore wind sites in 2004 and has put in a lot of time and effort into the projects. Â
'We've been at this for seven years – who's going to compensate us for seven years' of investment and time?' he asks. 'All of those investors are just honest, decent people. They're not wealthy companies. Even if they were, it doesn't matter. You can't do this to people. It's a matter of doing things correctly, and this is not correct.'Â
Trillium's four projects were expected to generate between 3,200 MW and 3,500 MW of wind power.Â
'Onshore wind has been building for 20 years around the world; that game is more or less getting mature,' says Kourtoff. 'The only thing that has been big in the wind area or in renewables is offshore. Ontario is unique in the amount of offshore wind it has.'Â
According to a Conference Board of Canada report released in December 2010, 2,000 MW of offshore wind could be generated between now and 2026. In addition, the report says the development and operation of offshore wind in Ontario would create between 55,000 and 62,000 person-years of employment.
Stopping offshore development in the Great Lakes will have dire consequences for the industry in Ontario, Kourtoff predicts. He hopes that the government will reconsider its decision. Â
'I would say that unless this gets fixed, Ontario has handed the offshore mantle to the United States completely,' he says.Â
CanWEA President Robert Hornung expressed disappointment in the decision.
'We think Ontario had been working to position itself as a leader in offshore in the Great Lakes, and other jurisdictions are active in this area, whether it's New York state or Ohio,' he tells NAW. 'I think there is no doubt that it sets Ontario back a little bit in terms of its ability to compete, and it does create uncertainty for investors with respect to what Ontario's future intentions are.'