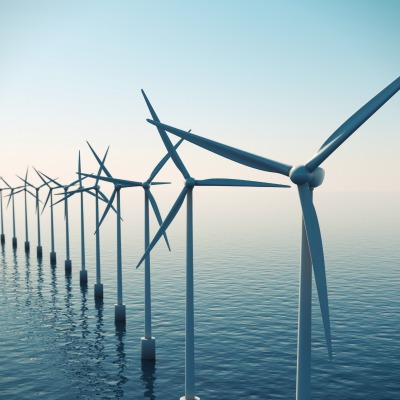 The Ontario government recently issued a pair of requests for proposals (RFPs) calling for the further study of noise impacts from proposed offshore wind projects, as well as of the decommissioning of offshore turbines.
The RFPs, issued Sept. 3 by the Ontario Ministry of the Environment and Climate Change, provided industry watchers a strong indication that the province could finally be lifting the nearly four-year-old ban on offshore wind development in the Canadian side of the Great Lakes.
On Feb. 11, 2011, Ontario abruptly halted all offshore wind energy development on the Great Lakes. At the time, the ministry said that offshore wind development needed further scientific study. Because Ontario holds dominion over each of the five Great Lakes touching its shores, the provincial government's stance equates to de facto federal policy.
However, ministry spokesperson Kate Jordan tells NAW that the offshore-wind-specific RFPs are merely to support the province's decision-making in the future. And, until the province can obtain sufficient scientific evidence, the offshore wind ban will remain in place.
"Ontario will not proceed with offshore wind projects until enough scientific evidence exists to demonstrate that any future proposals can be developed in a way that is protective of both human health and the environment," explains Jordan.
She says the noise study will look at predicting noise impacts using modeling – both over water and at land receptors – to inform "any future rules and requirements related to noise." She goes on to note that the decommissioning study "will gather the best available science related to how wind turbines and other equipment should be managed at the end of their life cycle and identify what type of financial assurance should be established."
While Ontario seeks more time for scientific study, provincial offshore wind developers, such as Toronto-based Trillium Power Corp., remain in limbo. Shortly after the ban, Trillium sued the government for C$2.25 billion, claiming the government illegally canceled and confiscated the company's proposed project. Trillium's 600 MW TPW 1 offshore wind project called for the installation of approximately 120 turbines on a site 17 km to 28 km offshore in eastern Lake Ontario.
Although the lawsuit is still pending – affidavits in the Trillium case are expected by the end of November – CEO John Kourtoff envisions a fresh start with the newly re-elected Kathleen Wynne administration.
Regarding Ontario's issuance of the offshore wind RFPs, Kourtoff characterizes the ministry's science-based rationale as "disconcerting" and "out-of-step with a new, honest path" sought by the Wynne government.
Just the same, he envisions a new beginning. Kourtoff maintains that Ontario is in a different place politically and economically than when the moratorium was issued.
"I truly hope that this new government will use its new mandate to move on a more forward-thinking path when it comes to Ontario's unique far-offshore opportunities that are strongly supported by Ontarians, which recent polls have confirmed."