Fueled by policy uncertainty, mergers and acquisitions (M&A) in the wind energy sector spiked in 2012, while venture-capital (VC) funding decreased slightly, according to a new report from Mercom Capital Group.
There were 35 company acquisitions in the wind energy sector in 2012 – more than double the 17 acquisitions seen in 2011. The acquired companies included 12 downstream companies, seven manufacturers, eight wind component companies, six service providers and two balance-of-system (BOS) companies.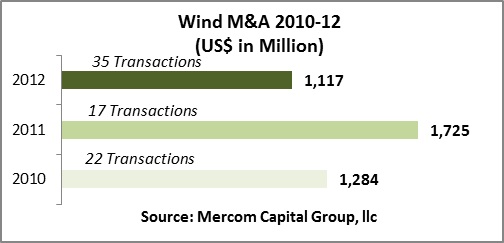 The eight wind component company acquisitions included the following:
Valmont's acquisition of wind tower manufacturer Katana Summit;
Trinity's acquisition of wind tower manufacturer DMI Industries;
SSE's acquisition of an additional 40.05% stake in Wind Towers, which brought SSE's total interest in the company to 80.1%;
Titan Wind's acquisition of Vestas' Danish tower factory;
Dulas' acquisition of wind component company Chillwind;
Sinomatech's acquisition of blade manufacturer and Goldwind subsidiary Tellhow;
David Brown's acquisition of industrial gear manufacturer Unigear; and
REpower's acquisition of a 49% stake in rotor blade and wind turbine producer PowerBlades.
Acquisitions in the wind power manufacturing space included the following:
Goldwind Science was acquired by China CNR Corp;
Clipper Windpower was acquired by U.S.-based Platinum Equity;
Suzlon's Chinese manufacturing subsidiary Suzlon Energy Tianjin Ltd. was acquired by China Power New Energy Development;
Wind Tower Systems was acquired by GE;
a 55% stake of Global Wind Power was acquired by China's Ming Yang;
The intellectual property rights of PowerWind were picked up by India-based RK Wind; and
Fuji Heavy Industries' wind turbine generator system business was acquired by Hitachi.
Two BOS companies were acquired in 2012:
Oliotalo, a developer of remote and condition monitoring products for wind turbines, by Miston; and
Spin Trends, a wind turbine borescope and condition monitoring company, by Frontier Pro.
2012 was also a very active year for large-scale wind project M&A. There were 72 large-scale project acquisitions totaling $8.8 billion in 2012, compared to 61 transactions totaling $4.1 billion in 2011. The fourth quarter was an especially busy quarter, with 20 acquisitions totaling more than $5 billion.
Top large-scale wind project acquisitions included the following:
Statoil and Statkraft's $2.6 billion purchase of Warwick Energy's 560 MW Dudgeon Offshore Wind Project;
ERG's $1.1 billion purchase of an 80% stake in IP Maestrale Investments' Italian and German wind farms;
Algonquin Power & Utilities' $900 million acquisition of a 480 MW Gamesa project portfolio;
The Oticon Foundation's $840 million acquisition of a 50% stake in DONG Energy's 277 MW Borkum Riffgrund I project; and
CPFL Energia's $620 million acquisition of a 158 MW project portfolio from Bons Ventos Geradora de Energia.
VC funding
Market uncertainty took its toll on investment last year, as VC funding in the wind energy sector was slightly lower than in 2011, Mercom says. VC funding in the wind power market amounted to nearly $315 million in 22 deals in 2012, compared to $369 million in 14 deals in 2011.
Of the 22 deals made in 2012, there were 10 downstream companies (eight project developers; one engineering, procurement and construction company; and one operations and maintenance company). Ten turbine companies (mostly small wind turbine makers), one monitoring software company and one airborne wind company also received funding.
Mercom notes that because wind is a relatively mature renewable energy technology, more emphasis is placed on development than on technology and innovation.
"While venture-capital funding into new technology companies was sparse, it does not indicate a lack of innovation in the sector, as a lot of large manufacturers with their own research and development divisions spend millions of dollars to improve efficiencies and come up with new designs and innovations," explains Raj Prabhu, managing partner of Mercom Capital Group. "For a sector still dependent on subsidies, there is still a lot of room for investments in new designs and technologies that reduce costs and increase efficiencies."
Some of the top VC investment deals in 2012 included the following:
$183 million raised by Element Power, a developer, owner and manager of wind and solar projects in U.S., South America and Europe;
$21.5 million raised by Mainstream Renewable Power, a developer of renewable energy and offshore wind projects;
$20.2 million raised by ReGen Powertech, a wind turbine maker;
$18.6 million raised by Leap Green Energy, an independent power producer; and
$15.3 million raised by Trishe Developers, a wind power infrastructure company.
In addition, there were 16 debt deals amounting to nearly $12.5 billion in 2012, compared to $11 billion in 15 deals in 2011, Mercom notes, adding that most of the larger debt deals were in China. The top debt deal was the $5.5 billion in credit received by Chinese turbine maker Xinjiang Goldwind Science Technology.
Mercom also tracked approximately $14 billion in 71 announced large-scale project funding deals in 2012. Of that amount, $4.2 billion in 22 deals came in the fourth quarter. In comparison, large-scale project funding announcements in 2011 came to approximately $11 billion in 52 deals.
Top project funding investors in 2012 included Union Bank, with seven deals; EBRD and KfW IPEX-Bank, with six deals; and JP Morgan and Rabobank, with five deals apiece.