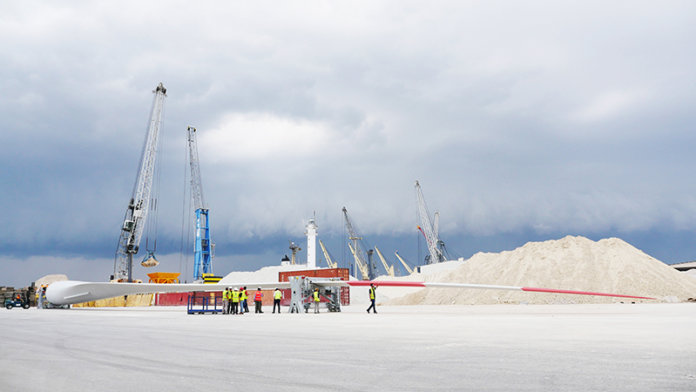 On Oct. 20, the first LM 73.5 P wind turbine blade successfully arrived at Castellón Port in Spain, representing the largest blade ever produced and transported through Spain, according to GE's LM Wind Power.
Destined for the Merkur offshore wind farm in Germany to power GE's Haliade 150-6 MW turbine, the 73.5-meter blade began its journey at LM Wind Power's factory in Castellón and traveled 45 kilometers by road to reach the port.
In total, 198 of the blades will be shipped to the Merkur site. The first blade arrived ahead of schedule – with a 3.5-hour transport time – and the duration of the journey is expected to decrease as the drivers perfect their routine over the coming months, says LM Wind Power.
According to the company, successfully transporting the blade required more than one year of planning and analysis of road conditions by LM Wind Power and GE, as well as active cooperation with the local police, the regional government, the minister of Fomento and the Castellón port authorities.
"LM Wind Power's Castellón plant was founded in 2007, starting with about 60 people and producing 37.3-meter blades," comments Jose Luis Grau, director of the plant. "Today, the factory employs more than 620 people and produces much larger blades, up to 73.5 meters in length, for multiple customers. This is a strong example of how the wind industry in Spain continues to play a significant role as a source of economic development and job creation."