Clean energy policies have had a positive economic impact on the North Carolina economy, finds a new report released by RTI International and La Capra Associates Inc.
The study, commissioned by the North Carolina Sustainable Energy Association (NCSEA) and based on independent and objective analysis, found that by 2026, clean energy will lead to $173 million in cost savings for electricity customers in the state.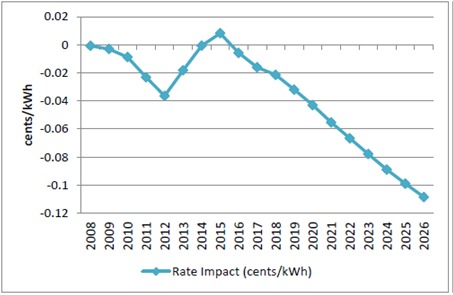 Source: NCSEA
The key drivers of clean energy development in North Carolina include the renewable energy and energy efficiency portfolio standard, the renewable energy investment tax credit and the utility savings initiative.
According to the study, tax credits taken by renewable energy projects developed between 2007 and 2012 generated $1.87 in state or local revenue for every $1.00 of incentive. Since 2007, the state's clean energy policies have generated $113 million in net revenue for the state.
Between 2007 and 2012, clean energy investment in North Carolina increased 13-fold and generated or saved an estimated 8.2 TWh of energy through a combination of renewable energy and energy efficiency projects, the study found. During the same time frame, the total economic benefit of clean energy development in North Carolina was $1.7 billion and generated $2.56 billion in associated spending in the state economy, according to the report.
Moreover, while the broader North Carolina economy lost more than 100,000 jobs between 2007 and 2012, the state gained 21,162 clean energy jobs during the same period, the study also found.
According to the 2012 NC Clean Energy Industries Census released last October, North Carolina is home to over 1,100 companies serving the clean energy industries, which include businesses related to renewable energy, energy efficiency, high-performance building, the smart grid, energy storage and electric vehicles.
The full report is available here.