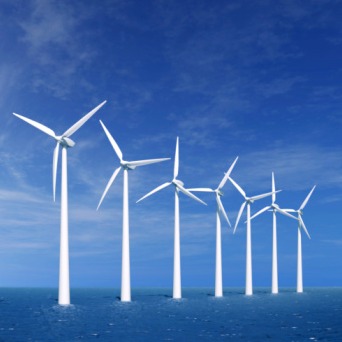 The Maryland Offshore Wind Energy Act of 2013, recently signed into law by Gov. Martin O'Malley, aims to help boost the local economy and subsidize wind energy development off the state's coast. But what, exactly, does the legislation do? And how have wind industry stakeholders reacted to the new law?
O'Malley introduced the Maryland Offshore Wind Energy Act of 2013 in January, his third attempt at establishing offshore wind legislation in three years. According to the governor's office, offshore wind development would lead to about 850 manufacturing and construction jobs and 160 post-development jobs for activities such as operations and maintenance.
At the core of the new legislation is a financial mechanism to subsidize an offshore wind project by altering Maryland's renewable portfolio standard (RPS) and establishing a charge on utility ratepayers' monthly bills.
The law amends the state's 20% by 2020 RPS, classifying offshore wind energy as a Tier 1 renewable resource, creating an offshore renewable energy credit (OREC) system and mandating a carve-out for the state's utilities. If an offshore wind project is proposed, permitted and constructed, utilities will be required to begin procuring up to 2.5% of their portfolio from offshore wind energy as early as 2017.
To help offset the increased costs to the state's utilities, the legislation will allow ratepayers to be charged an additional $1.50 per month on their electricity bills only if and when an offshore wind farm is built.
Brian Redmond, partner at Paragon Energy Holdings, says the law's $1.50/month cap sets the marker for what the public would be willing to accept for a price subsidy for offshore wind.
The law uses a potential 200 MW offshore wind farm to gauge its cost-benefit analysis and rate cap, but Jim Lanard, executive director of the Offshore Wind Development Coalition, says interested developers may aim to build a larger project.
"The real cap is what the impact is on the ratepayers. It's not likely that you're going to see developers bid for less than 200 MW, because the cost of mobilizing and preparing a wind farm doesn't change if it's for 50 MW or 500 MW – the planning is all the same,"Â he explains.
Lanard also believes the new law provides essential subsidies that could jump-start Maryland's offshore wind industry.
"Without the legislation, there would be no offshore wind development off Maryland," he says. "In today's economic environment, you can't finance a project without showing the banks or investors a revenue stream that proves they are going to get paid back or see a return on investment. You could build the power plant, but there wouldn't be anyone to buy the power."
Developers' POV
Following the legislation's passage, Doug Copeland, regional development manager of EDF Renewable Energy, welcomed the news.
'EDF Renewable Energy supports Governor O'Malley's offshore wind bill and commends the state in supporting this new industry," Copeland said in a written statement to NAW. "Our parent company, EDF Energies Nouvelles, develops, builds, owns and operates multiple offshore wind projects in Europe, and we are excited to begin these efforts off the East Coast.
"The governor and his staff have been very thoughtful in how they have structured this bill to advance offshore wind, especially in giving opportunities to Maryland businesses," he continued. "EDF RE believes offshore wind is a regional effort and commends the state of Maryland for taking a lead. We believe cooperation with other states will also be important to create additional economic benefits. The efforts involved in putting together a team and submitting a viable application will be substantial, and we look forward to the opportunity.'
Even before this legislation passed, however, there were a number of offshore wind developers eyeing Maryland. In 2010, the Bureau of Ocean Energy Management issued a call for interest from developers that would want to build an offshore wind farm in the state's designated wind energy area, located 10 to 30 nautical miles off Maryland's coast. Six potential developers responded.
One such developer, RES Group, also welcomes Maryland's new law but notes that the legislation cannot solely create a strong offshore wind industry in the U.S.
"[This legislation] provides an important and positive step toward realizing the significant potential that offshore wind can bring to the United States in terms of energy generation, investment and new jobs," says Chris Morgan, CEO of RES Offshore. "However, support for a project of around 200 MW will not, on its own, be sufficient to stimulate the level of investment and commitment that will be required by developers, manufacturers and contractors to establish a viable and cost-effective sector."
"In addition to ORECs," Morgan continues, "the sector will seek the strategic support that the tax credit legislation has provided to the renewables industry in the past. The current ITC/PTC legislation will benefit those projects that are ready to enter construction this year, but beyond that, the absence of a clear vision for legislation will place a constraint on further offshore development."

Specificity
Although a few other states have offshore wind legislation, such as New Jersey's Offshore Wind Economic Development Act of 2010, Maryland's law includes several unique provisions.
According to Jennifer Simon Lento, associate at Nixon Peabody LLP, Maryland's legislation outlines exactly what is expected of potential developers.Â
"In contrast to the New Jersey legislation, which requires the New Jersey Board of Public Utilities to apply a somewhat undefined "economic benefits' test, the Maryland legislation sets out a very specific list of criteria, including a clearly defined cost-benefit analysis, that an applicant must demonstrate before the Maryland Public Service Commission (PSC) will issue ORECs," Simon Lento explains.
"The specific criteria required under the legislation means both that the PSC will be able to issue implementing regulations quickly and that developer applicants can draft their applications with the confidence of knowing exactly what needs to be included in the submission," she continues. "Further, the Maryland legislation is drafted to encourage competition among developers to present projects with the most environmental, labor and cost-savings benefits."
Paragon Energy Holdings' Redmond adds that the Maryland law could serve as a model for future offshore wind legislation.
"Other states that have yet to quantify the level of price support that their constituents would be willing to bear – be it zero, $1.50 or $2.50 – would be well served to at least establish that marker," he says. "That, in a sense, will give the industry certainty that they are not shooting at a moving target.
'In Maryland, developers know that if they can get to the 1.50 per residential customer, then they have a deal. Other states, such as North Carolina, Virgina and New Jersey, which are embarking in wind development activities, would be well served to provide certainty to developers so as to know what is politically palatable to the ratepayers in order to attract offshore wind to their states."