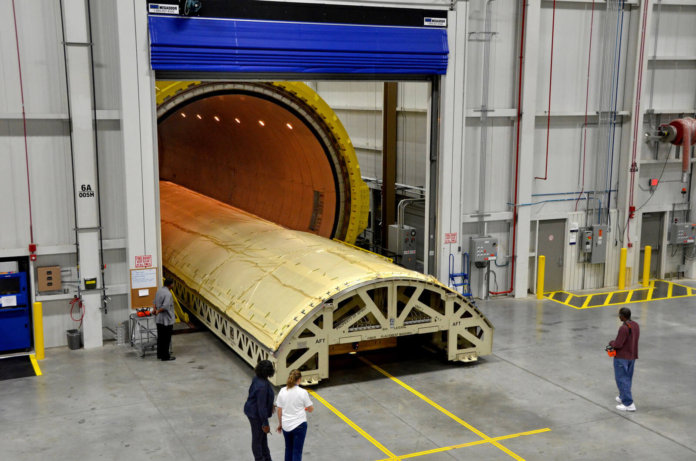 Spirit AeroSystems says its Advanced Technology Centre in Prestwick, Scotland, has developed an improved method for manufacturing composite parts, including for wind turbine blades.
With headquarters in Wichita, Kan., Spirit operates sites in the U.S., the U.K., France and Malaysia. In collaboration with the University of Strathclyde and the Scottish Innovation Centre for Sensor and Imaging Systems (CENSIS), Spirit developed an intelligent heated tool for curing composite components.
The company claims the new technology can cure composite parts 40% faster at half the cost and supports a wide range of composite components across industries, such as wind blades and composite aircraft.
"Instead of curing components at a standard temperature for hours at a time, we can now tailor the cycle time to match individual part geometries," Stevie Brown, lead engineer at Spirit's Advanced Technology Centre in Prestwick, explains. "The autoclave has been a bottleneck in manufacturing lines, and removing it will reduce cycle times for components, cut production costs and decrease energy consumption."
Typically, according to the company, high-performance composite materials are layered on a specially formed surface, or tool, and then placed in an autoclave, where a combination of heat and pressure accelerates the hardening of the material. Spirit says its new technology introduces an intelligent, multi-zone heated tool, removing the need for an autoclave. The tool enables complete control of the curing process through real-time monitoring and feedback.
CENSIS supported the collaboration with funding and provided project management. The University of Strathclyde provided technical support and developed the control algorithm and software for the intelligent tool.
The collaboration will continue through 2018, and Spirit says it has already begun applying the technology in research and manufacturing projects.