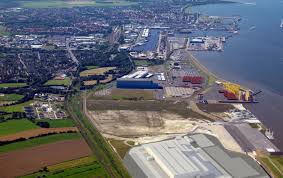 Eight days after announcing its intent to open a new production and test facility, Siemens officials and local dignitaries gathered in Cuxhaven, Germany, for a ribbon-cutting and signing ceremony.
As the company announced on Aug. 5, its new plant will be one of its most significant new production facilities in Germany in recent years and will create up to 1,000 new jobs. The groundbreaking is scheduled to take place later this year, with production of the first components to begin in mid-2017.
At that time, Siemens says it will begin production of nacelles for the next-generation wind turbines D7. This includes the final assembly of generators, hubs, and nacelle back-ends that are all connected to form complete nacelles. The location at the port allows heavy components to be loaded directly onto transportation vessels, thereby avoiding expensive ground transportation.
Attending the ceremony were Markus Tacke, CEO of Siemens Wind Power and Renewables Division; Ulrich Getsch, mayor of Cuxhaven; Joe Kaeser, president and CEO of Siemens AG; as well as Olaf Lies, minister of economic affairs for Lower Saxony.