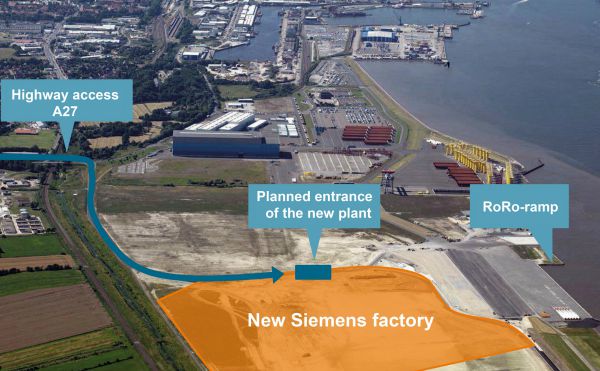 Siemens has announced it is investing approximately EUR 200 million (about $217.5 million) to build a production facility for offshore wind turbine components in Cuxhaven, Germany. According to Siemens, the factory will manufacture nacelles for the company's next-generation 7 MW offshore wind turbines.
The company says the Cuxhaven plant will be one of Siemens' most significant new production facilities in Germany in recent years and create up to 1,000 new jobs. The groundbreaking is scheduled to take place later this year, with production of the first components to begin in mid-2017.
'The decision to build a new production facility in Cuxhaven represents a clear commitment to Germany as a business location,' comments Joe Kaeser, president and CEO of Siemens AG, adding, "The expansion of offshore wind power capacity in Germany and Europe represents an enormous opportunity for northern Germany and Siemens.'
The company says its planned production facility will have a surface area of 170,000 square meters and will be located directly at the edge of Cuxhaven's harbor, allowing heavy components to be loaded directly onto transportation vessels and thereby avoiding expensive ground transportation.
The new factory will handle the final assembly of generators, hubs and nacelle back-ends, which are all connected to form complete nacelles, the core of offshore wind turbines, explains Siemens. While evaluating the new manufacturing location, the company also intensively examined the possibilities for investing in existing locations that are being impacted by structural transformations.
In addition to the new facility in Cuxhaven, Siemens is currently constructing a plant for rotor blades in Hull, U.K., for 6 MW and 7 MW wind turbines. That plant is also scheduled to be fully operational in 2017.