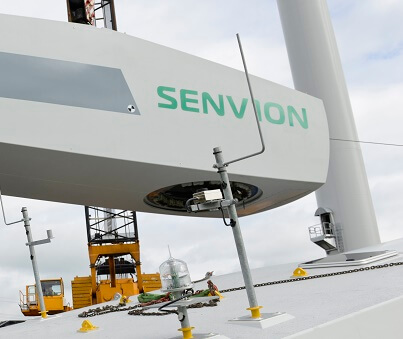 Germany-based Senvion is bringing the 3.7M144 wind turbine to its North American product portfolio.
The 3.7M144 extends the modularity of the company's 3.XM platform in North America to four different nominal capacities with three different rotor diameters, as well as a suitability for low to medium wind speeds.
The yearly energy production of the 3.7M144 is about 6.7% higher than that of the 3.4M140 launched last year for the 60 Hertz market. Like the other 3.XM models, the 3.7M144 has very low sound characteristics. In fact, due to aerodynamically optimized blades and serrations at the blade edges, it is one of the quietest wind turbines in its class, Senvion claims. With 105 db(A), its low maximum sound power level makes it a good fit for locations where permitting is a challenge.
The turbine also features an active single blade pitch to reduce loads, enabling Senvion to extend its life to 25 years. The turbine will be available for hub heights of 108 meters (354 feet) or according to project-specific needs. It will also be available with a de-icing system, notes Senvion.
The 3.7M144, compliant with all grid codes in North America, can be customized with different electrical capabilities to optimize costs. The turbine will be available with multiple chopper sizes, pluggable grid filters for weak grids, and different voltage and reactive power ranges.
"I am glad to announce that we are increasing the modularity of our North American 3.XM turbines," says David Hardy, chief sales officer at Senvion. "By doing so, we continue addressing the need for highly competitive, modular technology that can be adapted to project-specific requirements in North America."
Senvion – which started as REpower Systems in the U.S. in 2007 – notes it is celebrating 10 years of doing business in North America.