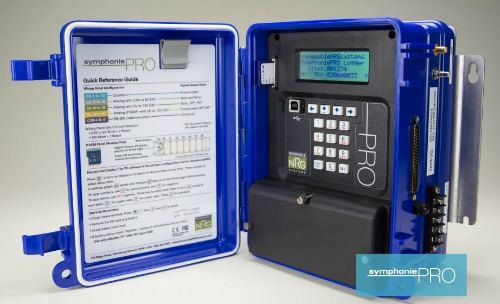 Vermont-based Renewable NRG Systems (RNRG) has launched SymphoniePRO, a new data logger that the company says is specifically engineered to improve the performance of wind and solar measurement campaigns.
SymphoniePRO builds on RNRG's Symphonie series of loggers. According to the company, each of the solution's 26 channels' statistical values are calculated from continuous one-second data samples and averaged over a user-selectable interval (10-minute default).
Data are communicated and the system is powered via Symphonie iPackGPS communications devices, which only require a firmware upgrade for compatibility with the new data logger, the company adds. In addition to SMTP email data delivery, SymphoniePRO allows remote, real-time connection capability over RNRG's MetLink protocol for tasks such as automated or manual data download, firmware upgrades, live data viewing, or configuration changes.
Also included is the SymphoniePRO Desktop Application, a new PC software package used to process raw data files as well as configure and communicate with the SymphoniePRO logger and iPack. SymphoniePRO Desktop Application keeps track of site data and produces tab-delimited text files.
RNRG notes the SymphoniePRO is backed by the company's two-year warranty and lifetime technical support. More information is available here.