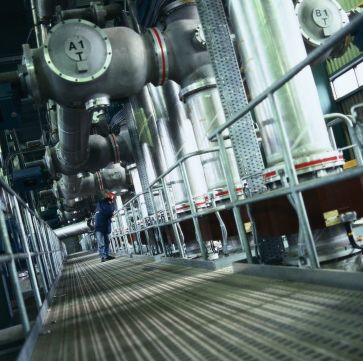 As the wind industry has grown, so has its impact on the steel industry. It's easy to see why: Each wind turbine erected in the U.S. typically has 125 tons to 200 tons of steel in each tower.
Assume the average wind turbine erected today is a 2 MW machine. The U.S. is expected to install approximately 7 GW of wind energy this year, which means that the total expected steel consumption for wind turbines will equal 437,500 tons to 500,000 tons for the U.S. alone. Canada is predicting to install 1,400 MW of wind power this year, which translates into 87,500 tons to 140,000 tons' worth of steel plates.
Notably, not all towers are manufactured in North America, so domestically produced steel for this year could be lower than that. Nonetheless, wind is a powerful industry that the steel business has been serving for the past decade, and one that will be a key part for many decades to come.
Steel is a commodity, so it is subject to market volatility and experiences wild price swings. Since 2003, the average price of steel has seen major price shifts, driven largely by the global consumption of steel rising to an expected total of more than 1.5 billion tons this year. This increase in demand has resulted in a race to secure raw materials for the production of steel.
Because the market remains very much tied to the raw-material input costs that are traded on a very short timeline, and because contracts for these raw materials are most often traded on a monthly basis, it is very difficult to offer a long-term, stable price for plate steel.
Given the real possibility that the production tax credit (PTC) and the investment tax credit may expire, there will likely be a rush to install wind turbines and have them operational before Dec. 31, 2012.
This scramble could put a strain on the supply chain in early 2012, because many steel-plate mills are seeing fairly strong orders for railcars, steel tanks, bridges and construction equipment.
If there is an unusually high spike in steel demand for wind turbines in early 2012, it could impact the supply chain and detrimentally affect the cost of end products or future production of wind turbines, as well as subsequent steel demand to fulfill those requirements.
The expected jump in demand in wind tower production in the first half of 2012 will undoubtedly increase the demand for steel plates. However, it should not put undo pressure on the overall capacity of North American plate mills.
What it will do, however, is potentially leave a void for both steel makers and tower fabricators alike. With a lack of clear policy going forward, the industry could be faced with a massive slowdown in new construction going into the October 2012 time frame.
The U.S. is beginning another election cycle, which could have a significant impact on both the wind and steel industries. The two industries have more at stake than in any other time in their history, and a PTC extension is critical to their success.
John Purcell is vice president of wind energy at Darien, Ill.-based Leeco Steel. He can be reached at (630) 427-2133 or jpurcell@leecosteel.com.