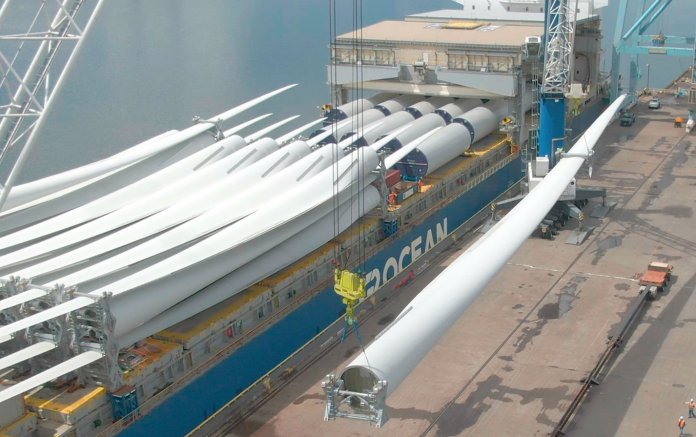 The Port of Vancouver USA will receive a shipment of nine wind turbines, including the longest wind turbine blades it has handled to date. The delivery is a joint effort between turbine manufacturer Goldwind and wind project owner Potentia Renewables. 
The blades for Goldwind's GW 136/4.2 MW turbines, each 220 ft. in length, were manufactured in and shipped from China. Goldwind Americas, the company's North American subsidiary, specializes in the sales, supply, operations and maintenance of Goldwind's permanent magnet direct drive (PMDD) wind turbine generators. Globally, Goldwind has 60 GW (approximately 35,000 wind turbine units) operating in 24 countries on six continents. 
"Goldwind Americas is pleased to be working with the Port of Vancouver USA, with their expertise in the receiving and movement of large-scale wind turbine components," says David Sale, CEO of Goldwind Americas. 
"Goldwind's expanding portfolio of turbines continues to push the technology envelope and define what is possible in the wind industry. This allows our customers to maximize project economics with larger turbine nameplate designs and rotor diameters," he adds.
The blades and components will travel to Assiniboia, Saskatchewan, to Potentia's Golden South Wind Energy Project, located on 34,000 acres of leased agricultural land. Potentia is a Toronto-based developer, owner and operator of solar and wind energy assets. The Golden South Wind Project will utilize Goldwind's latest PMDD turbines and will generate approximately 900,000 MWh of electricity annually. 
The project broke ground in 2019 and is expected to open in 2021.
Once unloaded from the ship, the wind turbine blades (27 in total) and components will be moved to laydown space at the port's Terminal 2 and Terminal 5. From there, they will be transported by Totran Transportation Services over the span of 21 weeks to Saskatchewan.
The port will eventually handle a total of 50 full turbines, a combination of the GW 136/4.2 and GW 155/4.2 MW models, moving through the port bound for the project. A complete turbine includes three blades, nacelle, generator, hub, five to six tower sections and other sub-components.
Additional ships carrying turbines will arrive later this summer, including blades measuring 250 ft. – which will be the longest blades ever imported into any port in North America.