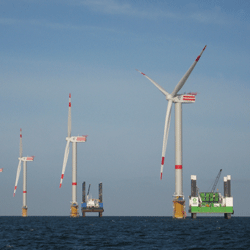 If offshore wind projects are to play a significant role in providing increased amounts of power in the future, costs must come down. A new report indicates that lower prices are a possibility for the near future.
The cost for offshore wind projects will drop significantly over the next 10 years, according to a report by RenewableUK, a wind and marine energy trade association. The report, compiled by independent technical consultancy BVG Associates, examines the whole-life cost of offshore wind projects, which includes capital expenditure, operational costs and the energy yield from the wind farms.
'We know the costs of offshore wind are too high,' says Maria McCaffery, CEO of RenewableUK. 'The industry is committed to driving down the cost of offshore wind energy. We can reduce costs by as much as a third over the next decade. But this will need a large enough market to promote competition and drive innovation. Working with the government, we can deliver 20 GW by 2020 if costs fall.'
The whole-life cost of energy from U.K. offshore wind projects is expected to be driven down by more than 15% in real terms between now and 2022 under normal market conditions. Under favorable conditions, such as increased competition, lower exchange rates and stable commodity prices, the decrease in cost would be as much as 33%, according to the report.
The report also states that growing a dedicated supply chain in and around ports would be beneficial to lowering overall costs.
'For the offshore wind industry, the logistics savings from growing a focused supply chain in and around the ports closest to offshore wind sites are significant, as are the benefits of tapping into the experience of companies in the U.K.'s oil and gas sector,' according to the report. 'In addition, the more U.K. jobs that are created, the more stable political support for the industry is likely to be.'
The U.K.'s offshore sector currently has an installed capacity of 1.3 GW. Offshore wind capital expenditure per megawatt of installed capacity will continue to increase in the next few years as projects are located further offshore and in deeper water. However, technological developments will offset the costs incurred by these conditions; therefore, costs will improve in the decade ahead, according to the report.
Projects that are further offshore will have access to improved wind resources, which will increase the energy yield per megawatt installed by more than a fifth between now and 2022.
However, the report warns that reduction in costs could be lost if a lack of government ambition fails to stimulate competition and innovation.