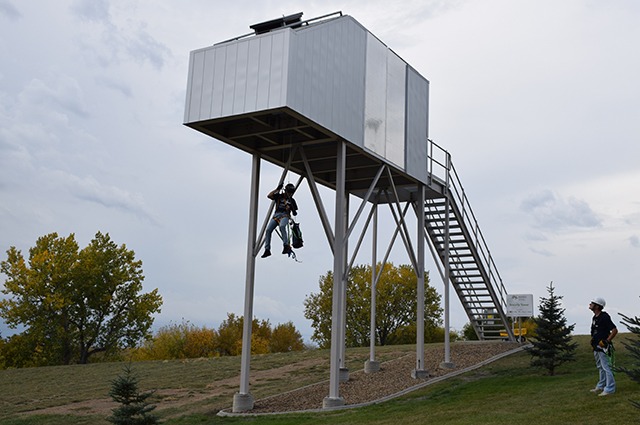 North Dakota's Bismarck State College (BSC) has completed a new tower that will provide wind technician training and education for students and industry partners.
The top of the Nacelle Tower is 32 feet high, and the interior hub hatch stands at a height of 24 feet. BSC says the tower replicates the top portion of a wind turbine and provides a place for rope-rappelling and safety training in a controlled environment.
Students began using the Nacelle Tower in September, but the project began in 2014. Montana-Dakota Utilities Co. and Minnesota Power each contributed $30,000 toward the project. A North Dakota Department of Commerce Workforce matching grant was then secured for an additional $60,000, followed by NextEra Energy, which gave $30,000. Two additional funding sources were secured through the Energy Generation Conference board and through a U.S. Department of Labor grant known as Training for Regional Energy in North Dakota.
"Training on the nacelle tower presents students an opportunity to train on state-of-the-art equipment that will prepare them to be safe and skilled wind energy professionals," said James Auld, director of external training initiatives for NextEra Energy.
CW Structural and EAPC helped design the project, and Capital City Construction provided construction. The Nacelle Tower is located on the west lawn of the National Energy Center of Excellence on the BSC campus in Bismarck.
"Grants and partnerships with industry really enhance our ability to get students prepared to hit the ground running upon hire," added Dr. Larry C. Skogen, president of the college. "Ensuring our students are well prepared for the workforce and helping companies train their employees is work we are very proud to do."