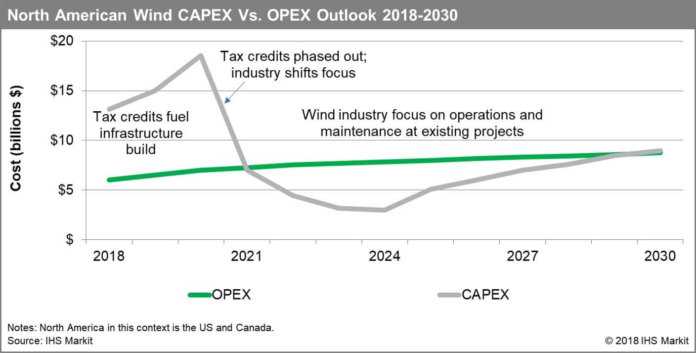 A new report estimates that operations and maintenance (O&M) expenses for wind power assets could cost the industry about $7.5 billion annually by 2021.
IHS Markit estimates that the current North American wind O&M market is valued at approximately $5 billion to $6 billion annually, but it is expected to exceed $8.3 billion by 2027, representing an increase of nearly 40%.
In 2021, the industry will reach a critical turning point, as operating expenditure (OPEX) for the North American (U.S. and Canada) wind industry will, for the first time, eclipse capital expenditure (CAPEX), according to the 2018 IHS Markit Wind O&M Benchmarking in North America: Aging Turbines, Rising Costs – a study of O&M costs for North American wind power plants. The report is part of the IHS Markit Wind Power Plant Benchmarking Service, which is designed to help the industry determine the optimal O&M strategy by using concrete, standardized data of costs and performance.
"The O&M market for North American wind installations is a steadily growing industry," says Maxwell Cohen, associate director at IHS Markit and co-author of the annual report. "Growth is driven both by more turbines and, as those turbines age, more spending per turbine. The North American wind turbine fleet is aging overall; the average age of installed capacity will rise from seven years in 2018 to 14 years in 2030. As projects age, they cost more, making the O&M business even more intriguing than it is today, and many players are expanding into this sector of the business."
Currently, more than 50,000 utility-scale wind turbines comprising nearly 100,000 MW of generating capacity are installed in 42 U.S. states and 12 Canadian provinces and territories, the report says. By the year 2028, IHS Markit expects those numbers to increase to more than 75,000 wind turbines with a capacity of more than 150,000 MW. But most of this growth will come in the next few years before federal tax credits expire in the early 2020s. As that takes place, wind capacity additions will decelerate. But OPEX will continue to grow, and as a result, it is expected to eclipse CAPEX in 2021, according to the report.
"The transition from CAPEX to OPEX is significant, and the wind industry will need to shift its focus away from infrastructure build and toward providing services and minimizing costs at existing projects," Cohen notes.
One of the key findings from the benchmarking study is that larger, newer wind projects have O&M costs averaging 25% less per megawatt-hour than ones using smaller turbines installed before 2010.
"Not all projects are created equal, and larger projects' costs increase less rapidly," says Michael McNulty, research associate at IHS Markit and co-author of the 2018 IHS Markit study. "As we build on previous years' benchmarking analyses, we've concluded the O&M costs per megawatt of larger projects are not only lower compared to smaller projects, but also demonstrate more cost stability as they age. Most of these larger projects benefit from economies of scale, potential procurement efficiencies and lower exposure to individual turbine failures."
McNulty says another key finding is that first-year O&M costs are on the decline as the industry continues to learn.
"First-year costs fell from an average of $46,000 per installed megawatt during 2008 to 2013, to $38,000 per megawatt during 2014 to 2017," he explains. "Average annual O&M costs generally start low in the first year of operations. There is a steady increase in annual costs per megawatt after about three years and a significant increase in per megawatt-hour costs starting in year 10, when costs accelerate and performance deteriorates. Large projects are not immune to this trend, though the effect appears more modest for them."
However, McNulty cautions there can be a great disparity from project to project, with age, location and O&M strategy all being important factors.
"The dataset shows differences in key performance indices of projects in different regions and from different turbine models. Fortunately, the dataset is vast – covering a third of the North American wind capacity – and allows asset owners to benchmark their own projects against similar projects and determine the optimal O&M strategy for their business," McNulty says.
The IHS Markit study comprises data from more than 325 wind projects, representing 34,000 MW of capacity and nearly 20,000 turbines installed in North America. It also represents more than 150,000 turbine-years of operational history from more than 15 turbine original equipment manufacturers, allowing study participants to track projects and turbine performance over time.
"As operating costs increase, owners are focusing on performance optimization and cost management," notes Rafael McDonald, director of IHS Markit North American renewable power, the third author of the study. "Before this benchmarking study was established, there was no objective method for wind asset owners to compare the performance of their projects against the market as a whole."
"There is no one-size-fits-all strategy for wind operators as it relates to managing O&M costs," Cohen adds. "Our goal was to provide a comprehensive assessment of the entire O&M market so wind asset owners can select the O&M strategy that best balances cost, convenience and risk profile for their particular portfolio of wind projects."