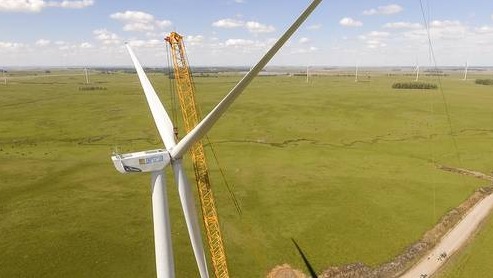 The Nordex Group, a wind turbine manufacturer with more than 20,000 MW of installed capacity globally, says it has helped Uruguay reach 1,000 MW of wind power connected to the grid with a N117/2400 MW turbine, which was the 13th to be commissioned at the Pampa wind farm.
Nordex notes that this move strengthens its support of wind energy in Uruguay, as it installed the first wind turbine in the country, a N27/150 KW model, in 1999.
Patxi Landa, chief sales officer of Nordex SE, said, "We are very proud to be part of the realization of UTE's vision of changing the energy landscape in Uruguay. This [is] a country in which we have installed more than 300 MW to date, and we intend to continue increasing that figure."
According to Nordex, the country expects to surpass 1,300 MW of installed capacity by the end of 2016 and continue growing the contribution by wind energy to the country's power grid, aiming to supply 38% of its power consumption from wind in 2017.
Nordex says it has installed a total of 309 MW in Uruguay in four different wind farms: Juan Pablo Terra (67 MW), Florida (50 MW), Melowind (50 MW) and Pampa (142 MW). The company notes that 209 MW of this capacity were supplied on a turnkey basis. As part of its broad service offering, Nordex is also providing operations and maintenance services for 100% of its installed capacity in the country.