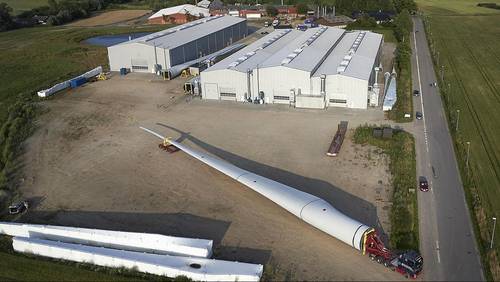 The Nordex Group is acquiring Denmark-based SSP Technology A/S, a developer and manufacturer of wind rotor blade molds.
SSP Technology, founded in 2001, engineers rotor blade molds and prototypes for turbines between 1.5 MW and 8.0 MW. The largest rotor blade prototype produced by SSP to date has a length of almost 90 meters, says Nordex.
The acquisition includes intellectual property rights; roughly 70 employees; and the company's Kirkeby facility, which has a floor area of some 10,000 square meters. Nordex notes that SSP Technology also holds numerous patents for the production process of the molds.
With this transaction, Nordex aims to "reinforce its technological position in the development of even larger and more efficient turbines," the German turbine manufacturer explains in a press release. Nordex develops and produces rotor blades at its facilities in Germany and Spain and also works with external partners in production and mold engineering.
"Our partnership with SSP Technology extends as far back as 2003 and has always been very successful and constructive," says Jose Luis Blanco, chief operating officer of Nordex. "I am convinced that we will be able to significantly strengthen our innovation ability by integrating the blade experts at SSP. Rotor blades are key to lowering the cost of energy."