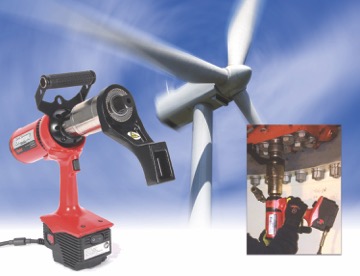 Ohio-based Norbar Torque Tools has introduced the EvoTorque2, the company's new generation of AC-powered torque multipliers ideal for wind power applications, including fabrication, installation, verification and maintenance.
According to Norbar, the tool is factory-calibrated and certified to an accuracy of ±3%, regardless of fluctuating voltages. Operating ranges are available from 100 lb.-ft. to 4,500 lb.-ft. (135 Nm to 6,000 Nm).
The wrench measures in torque, torque and angle, and torque audit mode for pre-tightened bolts. The tool, offered in 110 VAC or 230 VAC versions, weighs in at 23 lbs. (10.4 kg).
Communication takes place via USB and Bluetooth 4.0 data transfer. Up to 3,000 readings can be stored in internal memory, including time and date stamping. The EvoLog PC software manages data and tool configuration.