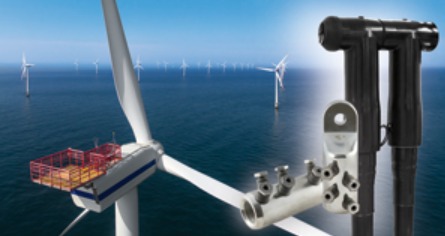 Nexans, a provider of cables and cabling solutions for power transmission and distribution; energy resources, including renewables; transportation; and building sectors, is launching a range of 72.5 kW cable and power accessories to meet the growing demand for higher-capacity wind farms.
According to the company, the new generation of power accessories has an F-type outer cone comprising separable T-connectors, coupling connectors and surge arresters.
To transmit the increased power between each individual turbine and collection platforms efficiently, Nexans has created inter-array cable systems able to operate at 72.5 kV instead of the traditional 36 kV. Further, transformer and switchgear OEMs have upgraded their designs to take into account the higher voltage, the company adds.
Nexans says all the 72.5 kV power accessories are type tested according to IEC 60840, while the equipment bushings by Euromold are additionally type tested according to IEC 60137. Separable connectors and bushings are tested according to IEC 60068 (solar radiation IEC 60068-2-5 and salt mist IEC 60068-2-52).