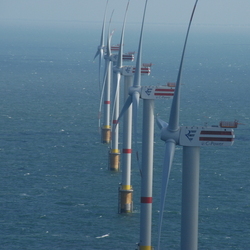 The New York Power Authority (NYPA) board of trustees voted on Tuesday to end the competitive solicitation process for the proposed Great Lakes Offshore Wind Project (GLOW) without awarding a contract for project development.
The board cited the estimated annual cost of GLOW and current economic conditions as the reason for its action. Evaluation of the proposed project's economics determined that it would not be fiscally prudent for NYPA to commit to the initiative.
According to the NYPA, development of the 150 MW GLOW project would have required in an estimated annual subsidy of between $60 million and $100 million, resulting in a significant cost premium to the power authority.
NYPA received five responses to the GLOW RFP from Apex Offshore Wind LLC, Great Winds LLC, NRG Bluewater Wind Great Lakes LLC, Pattern Renewables Development Co. LLC and RES Americas Developments Inc.
A multi-disciplinary review of the proposals was conducted, which evaluated a wide range of criteria including expected costs, potential economic development benefits, community response and environmental impacts. Although the evaluation indicated the project was technically feasible, the generating output of the proposed 120 MW to 500 MW project would have cost two to four times more than land-based wind, according to NYPA.
NYPA's decision not to move forward leaves a 20 MW to 30 MW offshore project off the coast of Cleveland as the lone Great Lakes offshore wind project under development.
'We had hoped that the NYPA project could serve as a learning tool for installing wind power in freshwater regimes,' says Terry Yonker, founding chairman of the Great Lakes Wind Collaborative. 'And we have lost an opportunity.'
Despite NYPA's decision, the power authority says it would still consider future Great Lakes opportunities, Gil C. Quiniones, NYPA's acting president and CEO, said in a statement.
He added that NYPA will continue to work with the Great Lakes Commission and the Great Lakes Wind Collaborative to research 'affordable and environmentally sound development of future offshore wind projects in New York state waters.'
Meanwhile, NYPA and its collaborative partners, Con Edison of New York and the Long Island Power Authority, are pursuing the evaluation of the LI-NYC Offshore Wind Project in the Atlantic Ocean off the southern coast of Long Island.
The LI-NYC Offshore Wind Collaborative recently submitted a lease application to the federal government for undersea land identified as a possible location for this project.
Although the economics of the project continue to be studied, the main differences between GLOW and the LI-NYC project are the participation of multiple utilities and that the LI-NYC project is located adjacent to a densely populated area in a high-priced energy market, NYPA explains.