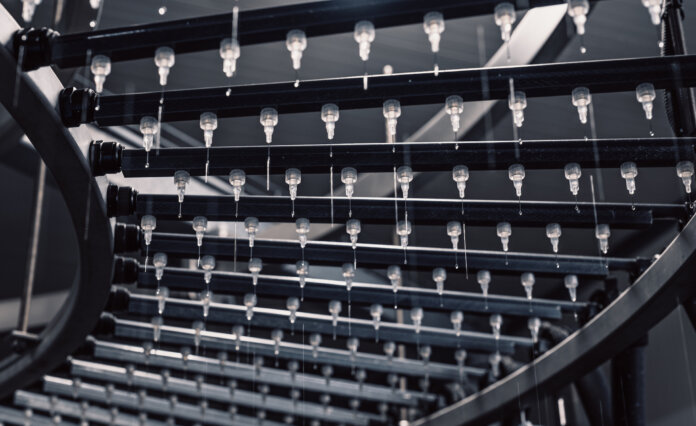 Technical University of Denmark (DTU), the world's foremost research institute within the field of rain erosion on wind turbines, recently acquired a rain erosion tyester (RET) from R&D Test Systems. DTU's tester will be used across several different research projects as well as to develop further methods for testing rain erosion on wind turbine blades.
In the wind industry, offshore and onshore, the negative effects of the elements on wind turbine blades are a continuing issue. The blades, especially along the tip section, are particularly susceptible to becoming worn out from rain. If a blade's coating is damaged, the wind turbine's efficiency is compromised and costly repairs become necessary. Rain erosion is a challenge that both wind turbine manufacturers and wind farm owners are eager to address.
A RET is a machine based on a three-bladed helicopter principle, where a test specimen is rotated at high speed and exposed to raindrops. The RET provides the right set-up for the most realistic test conditions in a controlled environment, where it is possible to simulate different types of rain and test accelerated lifetime for leading-edge protection.
The RET which DTU has purchased will be the most advanced on the market and will be able to emulate rain with three times the intensity because the rain field can be opened up to 1,800 needles instead of the standard 600 needles. In addition to increased rain density, DTU has also chosen to incorporate a heat pump to heat the ventilation air, which, in addition to drastically reducing energy consumption, also provides increased possibilities for controlling the temperature.
"Time is money, so our customers are always interested in shortening a test period if it can be done without impairing the results, so we're very much looking forward to developing a machine where the tests can be accelerated to a greater extent by increasing the rain density," says Niels Pedersen, key account manager at R&D Test Systems.
The new heat pump integration in the ventilation system of DTU's testing machine enhances overall efficiency and allows DTU more control over the temperature of the ventilation. This provides better possibilities for investigating the influence of different air temperatures on rain erosion tests.
"The testing machine is improving our possibilities for researching and testing new solutions," says Ignacio Marti, division head at DTU Wind and Energy Systems. "It has been a constructive process collaborating with R&D Test Systems on implementing the new features in the machine."
The new testing machine will be installed at DTU Riso campus, where a new purpose-built test facility will soon be complete.