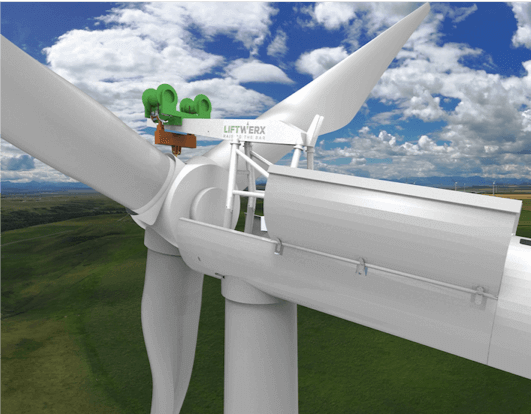 LiftWerx, an engineering-based contractor specializing in heavy-lift technology, has partnered with Siemens Gamesa to develop what it calls the world's highest-capacity up-tower lifting device.
Rated at a lifting capacity of 75 metric tons, the RotorHook is designed to lower and lift a fully assembled wind turbine rotor and main shaft – eliminating the need to use a large conventional crane on the ground.
Launching in the second quarter of next year, the RotorHook is the largest up-tower lifting device to be developed in the wind operations and maintenance (O&M) industry, the company claims.
The device can be mobilized on-site in only three standard ISO containers, LiftWerx notes. The RotorHook is designed to drive down O&M costs, improve turbine uptime, increase safety, and reduce the reliance on larger, more expensive cranes.
"We are excited to partner with LiftWerx because their technology will set a new standard for main bearing and generator exchanges," says Ted Pruss, director of North American operations at Siemens Gamesa Renewables Inc. "This is a big step forward for the industry, where continuous innovation and lowering the cost of energy continue to be market drivers."
Glen Aitken, president of LiftWerx, adds, "We chose to partner with Siemens Gamesa because of their continuously widening global presence and proven track record. Their company culture encourages new innovative ways to drive down costs and provide value to customers. Operationally, this device will perform lifts from within the nacelle which were previously unachievable, and we are looking forward to progressing with the project and executing the first lifts in Colorado."