Global wind power venture capital (VC) funding reached $48 million in the second quarter of this year (Q2'14), an increase from $32 million in Q1'14, according to a new report from Mercom Capital Group. Total corporate funding in the wind sector, including VC funding, public market financing and debt financing, came to $4 billion in the quarter.
The report says the largest VC deal in the wind sector in Q2'14 was by STX France, a provider of offshore construction to renewable marine energy and oil and gas markets, which raised $27 million from BPIFrance, the French Environment and Energy Management Agency, Credit Agricole, Banque Populaire, and Region Pays de la Loire. That was followed by Nenuphar, a developer of vertical-axis floating wind turbines, which raised approximately $20.8 million from new investors, Areva and FCPR Ecotechnologies, and existing investor IDInvest Partners.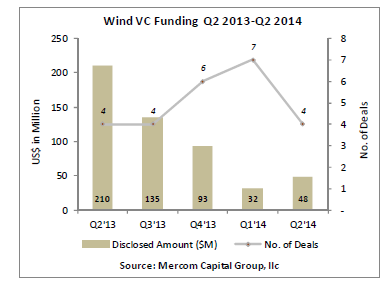 Announced large-scale project funding in the quarter totaled $6.3 billion in 38 deals, compared to $7.2 billion in 29 deals in Q'14.
Mercom says it also tracked nearly 11 GW of new project announcements globally this quarter in various stages of development.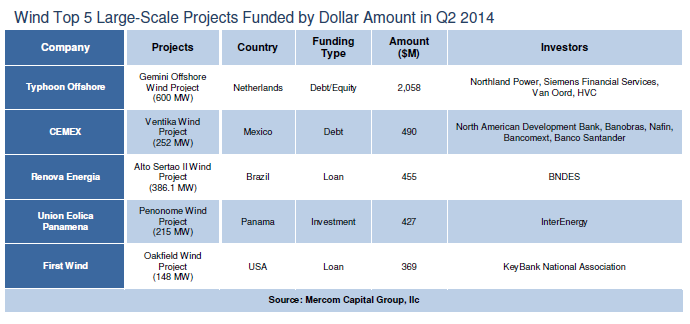 According to the report, there were seven merger and acquisition (M&A) transactions in Q2'14, four of which disclosed amounts totaling $828 million. The top disclosed M&A transaction during the quarter was the acquisition of a 33.33% stake in ACCIONA Energia International, the renewable energy generation business of ACCIONA Energia, by investment firm Kohlberg Kravis Roberts for approximately $567 million.
Announced project acquisitions in the second quarter came to $1.4 billion in 31 transactions, compared to 30 transactions in Q1'14.
The report says the top five project acquisitions by disclosed amount were led by independent power producer NRG Yield, which signed a deal with Terra-Gen Power, a renewable energy project developer, to acquire the Alta Wind projects in California for $870 million.
That was followed by renewable energy project developer Pattern Energy Group, which agreed to acquire 179 MW of the Panhandle 1 Wind project in Texas from Pattern Development for $125 million. Investment company Greencoat UK Wind acquired the 24 MW Maerdy wind project in South Wales from Velocita Energy Developments for approximately $89.8 million, as well as the 18.4 MW Kildrummy wind project in Scotland from BayWa r.e for approximately $73.5 million.
The report says the final top spot was shared by Enel Green Power North America, a subsidiary of Enel Green Power, which purchased an additional 26% of the Class A interests in 250 MW Buffalo Dunes wind project in Kansas from EFS Buffalo Dunes, a GE Capital subsidiary, for approximately $60 million, and TradeWind Energy, a developer and manager of wind energy projects, which acquired the 150 MW Osage wind project in Oklahoma from Wind Capital Group, the U.S. wind company of renewables investment group NTR, for $60 million.
Of the disclosed project acquisitions in Q2'14, the report says 10 investment firms, eight project developers, four utilities and two independent power producers acquired wind projects.
More information about the Mercom report is available here.