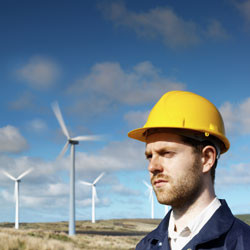 The wind power supply chain is breathing new life into manufacturing facilities in Ohio, according to a report released by the Environmental Law and Policy Center (ELPC). The report shows that the state has 106 businesses involved in the wind power supply chain and 63 businesses working in the solar power field.
These companies range from small to large and from old-line manufacturers to newly launched entrepreneurial ventures. Half of the suppliers are component manufacturers, while about a dozen are small wind turbine manufacturers, according to the report.
'When you begin to see how many businesses are really involved in making the equipment and products that go into the wind industry supply chain and solar industry supply chain, it becomes apparent how this is a growing part of the Midwest states' economy,' Howard Learner, executive director of the ELPC, tells NAW. 'We need to view that in terms of traditional economic development tools, and ways of creating jobs and spurring local economic growth.'
The ELPC is a public-interest environmental advocacy group that has published two other wind supply jobs reports focusing on Illinois and Iowa. The group issues these types of reports to get the word out on how effective the wind industry can be in creating jobs and boosting local economies.
'There's been lots of talk about green jobs and economic growth and how wind power can help rural communities, but to the best that we could find, nobody had really pulled together just how many companies are in the supply chain in Iowa, in Illinois and in Ohio,' explains Learner, adding that over 7,500 people are employed by wind industry suppliers in Ohio.
The ELPC cites several factors as to why wind and solar companies are achieving success in Ohio, including the following:
– Ohio enacted legislation supporting the development of renewable energy in the state, including an alternative energy portfolio standard, wind and solar tax reforms, and a system benefit charge that provides project incentives;
– The state has a strong manufacturing base and trained workforce, many of whom are well-suited to meet the demand from the growing renewable energy market;
– Ohio's manufacturing sector has benefited from its central location and transportation system. The state is within 600 miles of 62% of all U.S. and Canadian manufacturing locations; and
– Ohio is home to numerous institutions that encourage the growth and development of the renewable industry.
Some of the better-known companies in the wind industry supply chain that are located in Ohio include Timkin Co., Molded Fiberglass Cos. and Cardinal Fastener and Specialty.
However, there are also smaller companies that have successfully transitioned into the wind energy supply field, says Learner.
'It's your classic rust belt manufacturer that has been making parts and equipment for many industries over time, and in the growing clean energy economy sees a new market for its products and services and sees a chance to either maintain current jobs or grow and expand,' he notes.
Learner says that while states have taken the lead to encourage renewable energy development, more needs to be done – especially at the federal level – in order to ensure growth in the wind supply-chain sector.
'We're at a time where a number of states have stepped up, in terms of renewable energy standards, and we're going through debates at the federal level,' he says. 'The smart policies that are driving wind power development in the Midwest and the U.S. are driving job creation and growth in the manufacturing sector.'
The ELPC expects to release reports about the wind industry supply chains in Michigan and Wisconsin within the next couple of months.