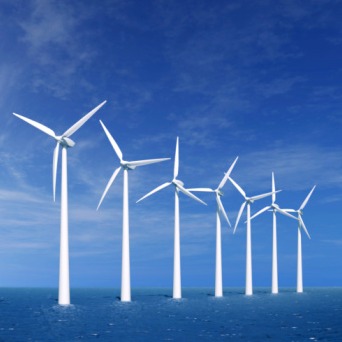 The Lake Erie Energy Development Corp. (LEEDCo), a regional public-private partnership based in Cleveland, has literally taken to the streets to drum up support for its 18 MW Icebreaker offshore wind demonstration project.
The developer began its grassroots program, Power Pledge, by going door-to-door beginning in June to collect signatures of customers willing to pay a small premium on monthly utility bills in exchange to have their electricity powered by offshore wind.
'It's a commitment saying that the person who signs the pledge would be willing to pay a little bit more on their electricity bill to get a portion of their electricity from our project,' explains Lorry Wagner, LEEDCo president, adding that customer pledges ranged from $1 to $100 per month in some cases.
After collecting more than 7,000 pledges from three counties, LEEDCo says the average consumer is willing to pay approximately $13.24 per month.
Considering that 80% of Ohio is powered by coal-fired generation, the odds are stacked against the developer. However, Wagner says the grassroots efforts are a crucial step in bringing about change. He draws a parallel to the deregulation of telecommunications in the 1980s.
'Prior to 1984, you either had phone service or you did not,' Wagner explains. 'There was no product differentiation or choice. Today, consumers have a wide variety of choices, and they get what they want. It is not a price-driven market for what was once considered a commodity. In a sense, we are taking the telephone analogy and applying it to Icebreaker and offshore wind.
'We see the utility industry in a state of flux very similar to the 1980s," he continues. "It started to change when the consumer was given a choice of providers. Now, it is morphing into all kinds of ways where consumers want locally generated, clean, renewable, good corporate citizen utility, etc. We do not know if it will parallel the phone industry, but we do know it will change from the way it is today."
The idea is to show the 88 independent power companies licensed to sell electricity in Ohio that there is a consumer demand for offshore wind power. Although LEEDCo has not yet signed with a provider, it has begun reaching to each of the providers to gauge interest.
As of yet, there have been no takers. However, the results are example enough of the general public's appetite for the project.
'We've found that when people give us a chance to tell our story, we can convert many of them,' he says, citing the company's better than 60% success rate. 'Many consumers have shown a preference toward locally grown projects.'
LEEDCo signed a power purchase agreement with Cleveland-based municipal utility Cleveland Public Power, which agreed to purchase 25% of the project's output.

Project update
Like other demonstration projects, such as Deepwater Wind's Block Island project and Fishermen's Energy Atlantic City Wind Farm, Icebreaker is located in state waters. However, while Deepwater and Fishermen's have designs for larger projects in federal waters, Icebreaker will remain in its current location. Therefore, Wagner theorizes, 'The process we develop for the demonstration project will carry through to all future projects.'
Additionally, LEEDCo is busy satisfying the requirements of the U.S. Department of Energy's (DOE) $4.1 million loan to study the feasibility of monopile foundations that are designed to reduce ice loading. The developer was one of seven industry recipients to receive an award.
Next year, the DOE will begin evaluating the seven projects for the next round of funding. By May 2014, the DOE will select three winners that will each receive an additional $46.7 million award.
LEEDCo expects fabrication, construction and installation of its offshore wind project to begin in Spring 2017, with commissioning of the freshwater offshore wind project in fall 2017.