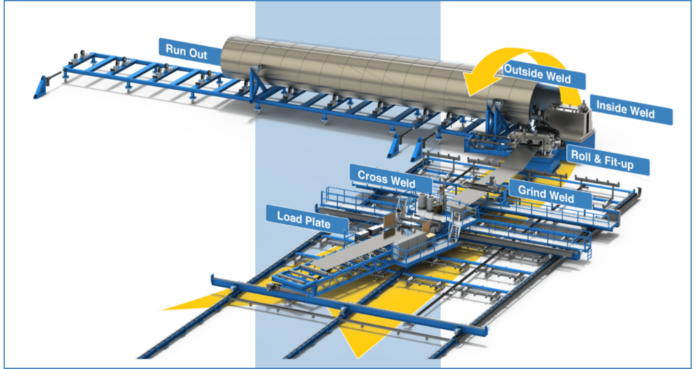 Keystone Tower Systems and GE Renewable Energy say the first commercial tapered spiral-welded wind tower has been installed with a 2.8 MW GE turbine and is fully operational.
"This is the culmination of a dream we had to bring advanced manufacturing to the tower industry to help drive down the cost of wind energy and expand where wind is competitive into new regions," says Eric Smith, Keystone's co-founder and CTO. "I'm very proud of the years of hard work our team has invested in developing and scaling up tapered spiral welding."
The tower was manufactured at Keystone's factory in Pampa, Texas. When at full capacity, the factory will be capable of producing approximately 1 GW of towers per year, the company says.
Keystone's tapered spiral welding process brings the speed, quality and consistency of automated manufacturing to wind tower manufacturing. Keystone designs and builds its own custom spiral welding manufacturing equipment, and the manufacturing process is designed to utilize coil steel, enabling a new segment of highly efficient domestic steel mills to supply into the wind industry.
The successful installation is the result of a multi-year collaboration between Keystone and GE to design and produce spiral-welded towers for GE wind turbines.
Keystone is now ramping up production, with additional deliveries targeted for this quarter. The first product is an 89-meter spiral welded tower for the GE 2.8-127 turbine, designed to be used interchangeably with GE's conventional 89-meter tower. The spiral tower has received a component certification from TÜV NORD for a 40-year lifetime.
Keystone and GE have also collaborated on a tower design for the GE's 3 MW turbine platform and have signed a multi-year supply agreement for spiral towers from Keystone's Pampa factory. The company says it is also developing mobile factories capable of building taller towers directly at a wind site.
"This collaboration with Keystone is an example of GE's commitment to working with partners to bring new and innovative technology to the wind industry and advance domestic manufacturing," says Vic Abate, GE Renewable Energy's CEO, Onshore Wind. "We are delighted to be a part of this exciting opportunity for our workhorse products, with the goal of providing affordable, sustainable renewable energy to our customers and helping to deliver on the energy transition."