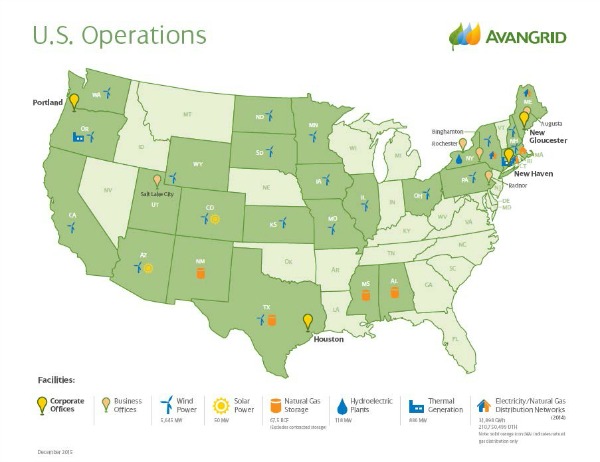 Iberdrola USA, parent company of Iberdrola Renewables LLC, and UIL Holdings Corp. have merged, creating a diversified energy and utility company with $30 billion in assets and operations in 25 states. The new company will operate under the name AVANGRID Inc.
AVANGRID says its renewable energy subsidiary is the second largest wind energy producer in the U.S., with 5.6 GW of wind generation capacity sited in 53 wind farms in 18 states. Approximately 69% of the capacity is contracted for an average term of nine years.
The newly combined company has a coast-to-coast presence with a workforce of approximately 7,000 employees. The AVANGRID utilities will continue to have offices in Connecticut, Massachusetts, Maine and New York, and Iberdrola Energy Holdings and Iberdrola Renewables are based in Texas and Oregon, respectively.
"Today, AVANGRID, a new American energy giant, has been born," says Iberdrola Chairman Ignacio Galan. "As we have done since our arrival in the United States in 2006, we will continue investing in clean energy across the country and bring new value to our utility customers through improving infrastructure, new technology and innovative services."
James P. Torgerson, president and CEO of UIL Holdings, is now CEO of AVANGRID. He will also serve on the AVANGRID board of directors and head a leadership team from among the former UIL and Iberdrola USA executives. The new company will maintain a close affiliation the the majority shareholder and former parent company, Iberdrola S.A.
"We will be a leader in the transformation of the U.S. energy industry," says James Torgerson, CEO of AVANGRID. "This friendly integration of Iberdrola USA and UIL Holdings will offer a more sustainable future to our customers, shareholders and communities."