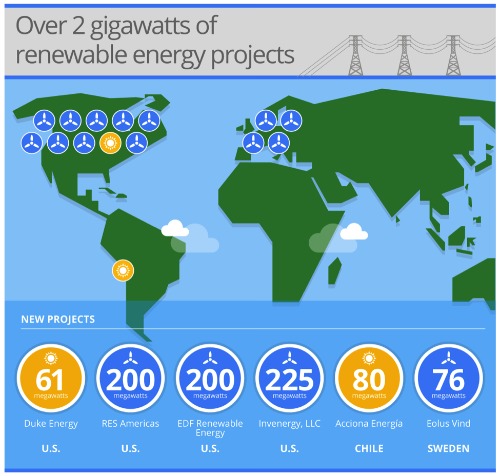 Google has signed nearly 1 GW in new renewable energy purchase contracts and, therefore, almost doubled how much clean energy the internet giant has bought to power its data centers around the world.
According to a blog post by Urs Holzle, Google's senior vice president of technical infrastructure, the new power purchase agreements (PPAs) total 842 MW and cover both wind and solar projects across three different countries: the U.S., Chile and Sweden.
Holzle says the new PPAs put Google 'one step closer to our commitment to triple our purchases of renewable energy by 2025 and our goal of powering 100 percent of our operations with clean energy." According to the blog post, Google now has 2 GW of renewable energy under contract.
An infographic from Google shows that its four new wind power contracts include one with EDF Renewable Energy for the 201 MW Great Western project, located in Oklahoma, and one with Eolus for a 76 MW wind farm in Sweden. The infographic indicates the other wind deals include ones with RES Americas and Invenergy in the U.S.
In an announcement, Tristan Grimbert, CEO and president of EDF Renewable Energy, states, "The participation of Google to directly procure wind power demonstrates their understanding of both the environmental benefits of renewable energy, as well as the business opportunity.
"We applaud their leadership in action around the climate change conversation and providing the financial certainty through the power purchase agreement to remove a key barrier to building a wind project," continues Grimbert.
Separately, developer Eolus notes in an announcement that its new PPA represents the company's second wind energy contract with Google. (The first was signed in January 2014 for 59 MW from four completed wind farms in southern Sweden.)
"Google's commitment to carbon neutrality is commendable, and we are very pleased to help Google, as one of the leading corporations in the world, meet its long term-term renewable energy and sustainability goals," says Per Witalisson, CEO of Eolus.
In the Google blog, Holzle says these new PPAs build on the company's very first large-scale renewable energy contract, which the company entered into with an Iowa wind farm back in 2010.
Regarding these most recent deals, Hozle explains, "These long-term contracts range from 10-20 years and provide projects with the financial certainty and scale necessary to build these wind and solar facilities – thus bringing new renewable energy onto the grid in these regions.
"For our part," the blog continues, "these contracts not only help minimize the environmental impact of our services – they also make good business sense by ensuring good prices."
According to the Google infographic, the other new PPAs include 61 MW of solar power from Duke Energy and 80 MW of solar from Acciona Energia in Chile.

Image courtesy of Google