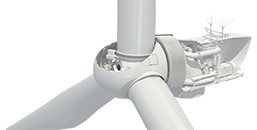 Xinjiang Goldwind Science & Technology Co. Ltd. has announced its new 3 MW smart wind turbine platform, the GW3S, which features scalable capacity, smart turbine controls and a structured design.
According to the company, the platform design maintains Goldwind's permanent-magnet, direct-drive turbine technology and incorporates attributes from the GW1.5 MW and GW2.5 MW platforms, including availability and performance.
"Goldwind is dedicated to the continuous innovation of its product offerings," states Tony Pan, CEO of Goldwind International. "The introduction of the GW3S Smart Wind Turbine will allow our customers to maximize project economics with a larger nameplate design, while [also] benefiting from the scalability and adaptability of the 3 MW platform."
The GW3S, adaptable for low- and ultra-low wind speeds, will range from 3.0 MW to 3.4 MW and features rotor diameters of up to 140 meters.
The first deliveries for key international markets are planned for late 2017.