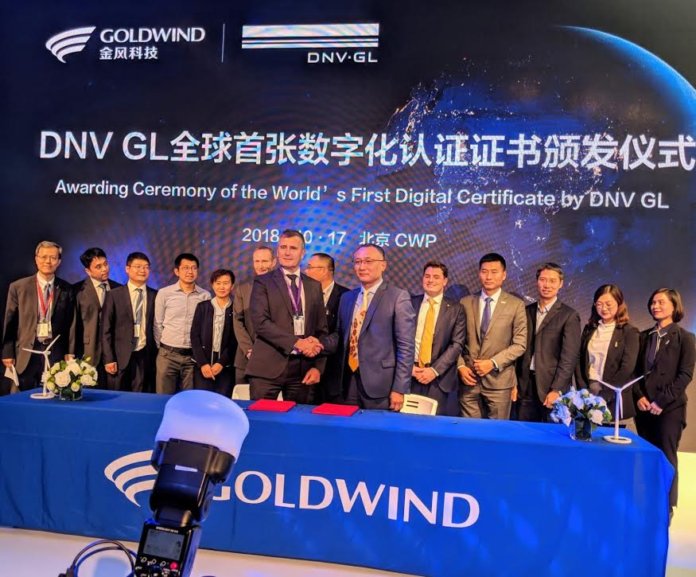 DNV GL and Goldwind have signed a memorandum of understanding (MoU) to cooperate on the development of digital tools to support the certification of wind turbines.
As the wind sector matures and governments look to reduce or eliminate subsidies, the wind turbine market is increasingly competitive, the partners explain. International tendering is becoming the norm, with contracts often awarded to suppliers that can best configure their turbines to suit the specific site conditions in a short time frame – including the proof of a valid turbine type certificate.
The MoU highlights the partners' common belief that increased digitalization within the certification process is key to improving responsiveness and speed of the certification process while maintaining customer confidence in the quality and reliability of wind turbines.
The MoU was officially signed at China Wind Power 2018 in a ceremony that also included the issuance of a digital certificate to Goldwind from DNV GL's recently launched MyCertificate, available on Veracity, DNV GL's industry data platform.
MyCertificate provides a real-time overview of all component variants used in a particular turbine type. Users can then immediately check the certification status of any custom configuration of a wind turbine type requested by their customer and generate a tailored certificate for that configuration. The self-generated certificate includes a QR code, allowing turbine customers to quickly and easily check the authenticity of the certificate.
Under the MoU, DNV GL and Goldwind will work together to develop common IT tools to improve the exchange of data and documentation, enhance the functionality of DNV GL's MyCertificate digital certification support app, and research possibilities for automating common certification tasks.