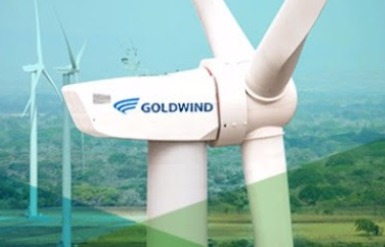 Chicago-based Goldwind Americas, a subsidiary of Xinjiang Goldwind Science & Technology Co. Ltd., says it has entered into an exclusive agreement with Viridis Eolia LLC, a Wyoming corporation, for the conditional supply of up to 1,870 MW of Goldwind permanent-magnet, direct-drive (PMDD) wind turbines.
"Our partnership with Viridis is another step in our five-year strategy to capitalize on the robust growth of the U.S. wind market," says David Halligan, CEO of Goldwind Americas. "This conditional supply of Goldwind PMDD turbines, with industry-leading availability, demonstrates the high performance of our machines and our commitment to expansion throughout the Americas."
The Viridis Eolia Master Plan, a planned 1,870 MW multiphase wind project located in Carbon County, Wyo., will utilize Goldwind's 2.5 MW and 3.0 MW PMDD wind turbines. The first stand-alone project of 32.5 MW will be developed by Little Medicine Bow Wind S LLC and is expected to be commercially operational in 2017. The Viridis Eolia Master Plan's subsequent phased projects will be commencing operations in years 2018 through 2022, the company notes.
"Viridis has selected Goldwind as exclusive supplier of its PMDD wind turbines and provider of long-term operations and maintenance services to our wind projects in Wyoming," says Juan Carlos Carpio Delfino, CEO of Viridis. "These projects will be one of the most important wind energy developments in North America, serving the Western U.S. energy markets, and will bring substantial economic support to the state of Wyoming for years to come."
Viridis Eolia LLC, headquartered in Medicine Bow, Wyo., is a renewable energy developer for owning and operating renewable energy facilities in North, Central and South America and the Caribbean. Since 2010, Viridis has been advancing the 1,870 MW Viridis Eolia Master Plan, which will deliver competitive wind energy to the Western renewable portfolio standard markets, including California, as reported in a prior issue of North American Windpower.