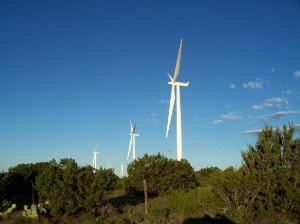 GE Energy Financial Services (EFS), a unit of General Electric, has agreed to invest in a 126.5 MW wind farm under construction by Airtricity Inc. GE EFS will invest alongside Airtricity in the $231 million Champion Wind Farm in Mitchell and Nolan counties, Texas. According to the companies, this is GE EFS' third wind farm investment with Airtricity and Airtricity's first project in North America not governed by a traditional long-term power purchase agreement. Additional financial details were not disclosed.
Airtricity began construction of the Champion project in May, and the project is scheduled for completion by May 2008. The Champion Wind Farm will employ 55 2.3 MW Siemens turbines, with power sold into the Electric Reliability Council of Texas electricity grid in west Texas, backed by a five-year minimum priced contract with Coral Energy Holding LP, a wholly owned subsidiary of Royal Dutch Shell PLC.
Airtricity and GE EFS also are collaborating on the 125 MW Forest Creek Wind Farm, pictured at left, and the 209 MW Roscoe Wind Farm.
Photo courtesy of Business Wire.