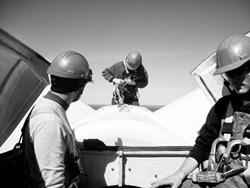 On Friday, 11 students from across the country are graduating from Kalamazoo Valley Community College's wind technician training program.
According to the Kalamazoo, Mich.-based college, 10 men and one woman have spent the past six months training for five days a week and for eight hours a day. This year's graduates are from Rhode Island, California, Connecticut, Colorado, Indiana, New Jersey, Michigan, Pennsylvania and Minnesota.
According to the college, the competency-based, hands-on Wind Turbine Technician Academy provides a fast track to in-demand jobs as a wind technician. Kalamazoo Valley offers the course as a non-credit, full-time program that allows students the chance to be job-ready in less than six months.
The program requires graduates to achieve 100% success in meeting industry standards in core areas of qualification. The graduates must successfully complete written assessments and practical examinations in the lab, as well as demonstrate their capabilities in the field.
According to the college, more than 96% of Wind Turbine Technician Academy alumni work in the wind industry, and the majority accept offers for employment prior to graduation. The academy is offered twice a year in January and July.